New kits of Colombia for Copa America 2015 have been unveiled by kit manufacturer Adidas. Earlier, we provided you leaked images of Colombia 2015 Copa America kits. Today we are able to provide you the first look on Colombia's new home and away kits of 2015. As expected, the new home jersey and shorts are designed with iconic yellow featured with blue applications, while the away kits are mainly designed with blue featured with yellow applications. Have a look on new kits of Colombia which are specially designed for 2015 CA. These kits are released under the series of "There Will Be Haters" by Adidas.
Colombia 2015 Copa America Home Kits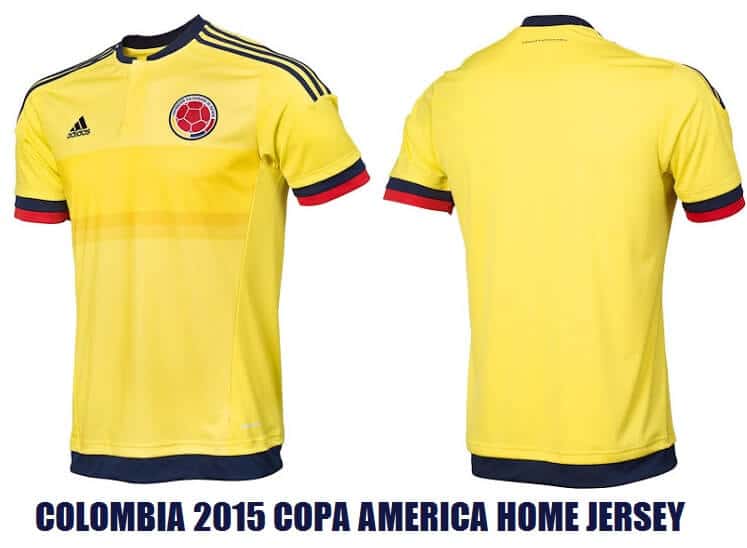 The new 2015 home jersey of Colombia is featured with yellow as main appearances on which some blue and red colored linings are there. It would be not incorrect to say that the home jersey returns to a classical kit design which is inspired by cycling theme. At the front of Colombia home jersey, there is logo of national football team in red and blue. On the other side trademark logo of Adidas is marked in blue.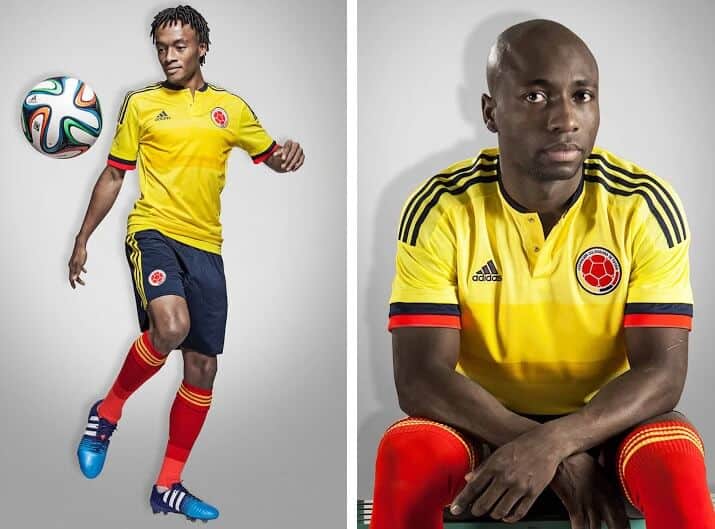 Collars are made in blue round shape with a buttons below. From neck to center of shoulders, the iconic three stripes of Adidas are marked that ends on sleeves. The end of arms are provided with blue and red applications in 2 stripes pattern.
At the back, player's name and number will be printed. National team's logo will be marked on left chest trademark of Adidas on right chest. At the end of Colombia 2015 home jersey, a single blue colored stripe is also available.
Shorts and Socks: These are in blue applications on which yellow linings are printed. On the right leg, badge of national team is there, whereas on the other leg, logo of Adidas is marked. Adidas re-introduced the classical Colombian look with navy shorts and red socks.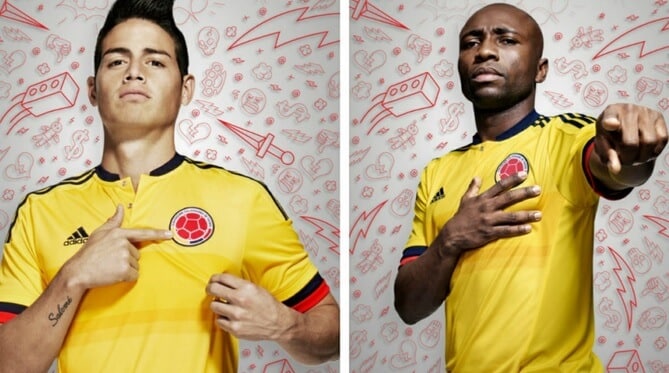 Colombia 2015 Copa America Away Kits
At some extent the 2015 away jersey of Colombia is the reverse of home jersey. Yellow applications are replaced by blue. Logos of national team and that of kit supplier are in yellow appearance. However some red colored stripes are also available at the end of arms and at the center of away jersey.
Part of Copa America 2015 Kits, the new away kit designed with modern kit with a navy collar. The graphic on the chest area is a bold interpretation of the Colombian Flag, inspired by cycling shirts. These new kits of Colombia were revealed by Adidas in the month of February 2015. Do you like the new kits?