New Kits of Colombia for 2015 Copa America football tournament have been released. After the success of Colombia in the 2014 FIFA World Cup, Colombia will be one of the toughest competitors in the Copa America 2015 tournament. In February 2015, new home and away kits for Colombia will be unveiled. The new Adidas Colombia 2015 home kit features a classical kit design, while the Colombia 2015 away kit features with a bold front design which is expected to be used until the year 2017. See below the characteristics of Colombia home and away 2015 Copa America kit.
Colombia 2015 Copa America Home Away Kits Leaked
The 2014 Colombia World Cup home kit featured a dynamic lines design. But the new Colombia 2015 Copa America home kit returns to a classical kit design which is based on cycling theme. New Copa America jersey of Argentina has been also leaked and is now available for first look.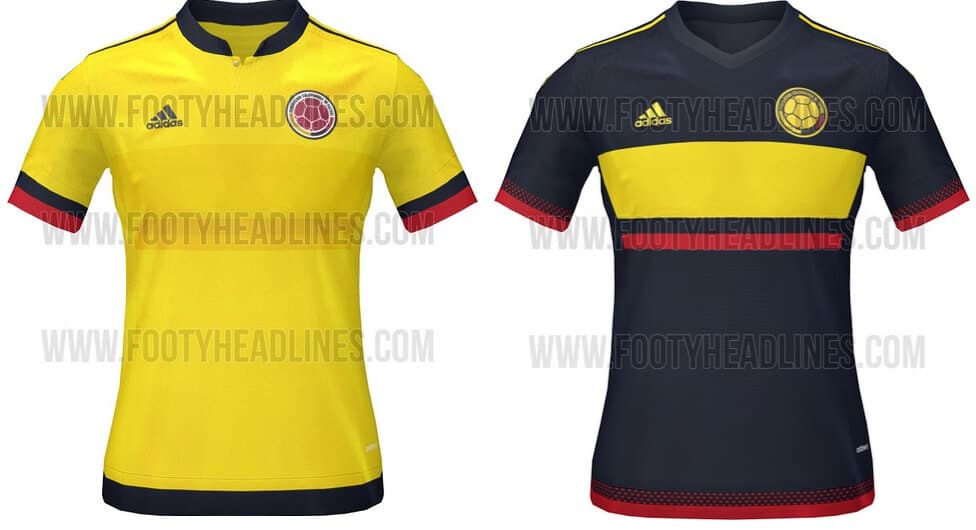 Colombia 2015 home kit that will be worn at the Copa America tournament in the summer, Colombia has returned to a more traditional design with its yellow shirt accompanied by red and navy blue cuffs, a navy blue trim at the bottom of the shirt and a unique navy collar.
The bright yellow color is used in the new Adidas Colombia 2015 home kit which has a classical collar with a two buttons. The bottom of the shirt features a contrasting navy stripe while the yellow, navy and red sleeve cuffs create the Flag of Colombia.
Read also: Barca 2015–16 Jersey leaked
On the front of the new Colombia 2015 Copa America home jersey is a subtle print with different tones of yellow which is showing the design of the Colombian Flag.
The new Adidas Colombia Away kit is designed with modern navy v collar. On the chest area, the bold interpretation graphic of Colombian Flag is used.
On the front, kit supplier Adidas performance logo on the front and 3 stripes on the sleeves are yellow. The sleeves cuffs and the bottom of the shirt are in red color.
Keeping fans view in the mind, the kit is designed clean with modern look, which should be another hit among Colombian fans who will be cheering the team on in Chile in the Copa America 2015.