Chile Vs Peru 2–1 Video Highlights Copa America 2015
Host nation Chile have booked their seat in the Copa America 2015 final. Eduardo Vargas stunning double strike on Monday nights at Santiago sent Chile to the final of Copa America 2015. Since 1987, this is Chile first Copa America final in 28 years. The rivalry match between Chile and Peru, once again Chile managed to win the battle. Now Chile are one step behind to win their first ever Copa America title. Here is the Chile vs Peru 2015 Copa America semifinal match highlights video. Watch out below the highlights video of Chile vs Peru 2–1 goals highlights.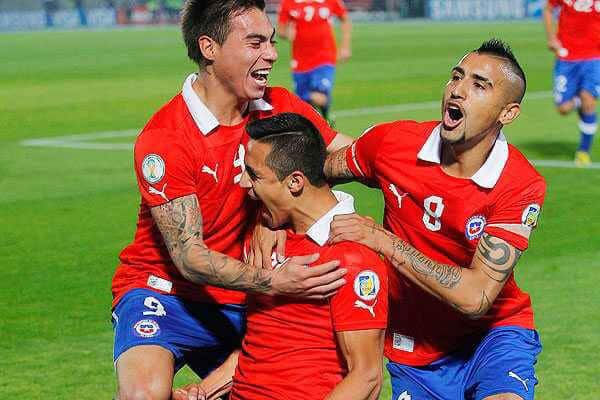 Chile Vs Peru 2–1 Video Highlights Copa America 2015
Chile vs Peru match was brilliant game and both teams had started superbly. Despite controversy, it was proper football match between two sides with full intent and positivity. It was Eduardo Vargas day, who scored two goals for Chile to advance into the final. Watch Chile vs Peru 2–1 Video highlights:-
Chile beat 10 man Peru at Santiago, thanks to the Napoli striker two excellent strike on Monday nights. In the first half of the match, there were so much drama happened as Arturo Vidal collided with Zambrano but luckily Vidal escape punishment.
But Zambrano was not shown same leniency in the 20th minute for high boot clearance on follow through of Charles Aranguiz and shown red carded for that incident.
In the 42th minute of the match, Eduardo Vargas put Chile 1–0 lead over Peru, converted Alexis Sanchez shot after hit the post. In the 60th minute, Gary Medel own goal leveled the scoreline 1–1.
But just after 4 minutes, Vargas excellent shoot from a 25 yards put Chile ahead in the match with 2–1. Peru who also lost in the 2011 semifinal of Copa America, once again lost in the last four stage. But it was day of Vargas whose two striker put Chile into the Copa America 2015 final.