Watch Argentina vs Chile 4–1 penalties Shootout Video highlights of Copa America 2015 final match
Chile have done it for the first time in the history of Copa America football competition. The hosts have won the biggest championship of South America after defeating the pre favorite Argentina by 4–1 in final game of Copa America 2015. Argentina faced yet another final defeat in one year. Chilean captain Claudio Bravo was the man of the match who denied penalty kick of Banega. After two exciting hours of final game, both teams failed to score, but Chile took advantage of their home fans and lifted the trophy for the first time. Have a look on highlights video of penalty shoot out video right over here.
Chile Vs Argentina 4–1 Penalties Shootout Video
https://www.youtube.com/watch?v=5Rl854_E3M0
It was Fernandez who took the responsibility of Chile to take the first penalty kick of the game. The player made no mistake, struck with speed and precision, sent the ball into the back of the net, defeating Argentine goal keeper Romero.
Read also: Brazil vs Paraguay 3–4 Penalties Video
For Argentina, captain Lionel Messi came forward for the first kick and scored beautiful penalty. It was another good strike, although this time Messi keeps his effort hard and low, and finds the bottom corner of the goal post.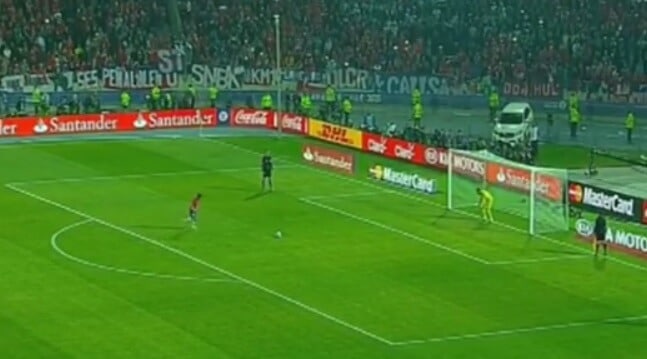 Juventus forward Arturo Vidal then take second kick for the hosts. It's not incorrect to say that he was lucky as Argentine goalkeeper had hand on it, but the ball finally crossed the goal line and second goal was given to Chile.
Former Real Madrid forward Gonzalo Higuain was the second penalty kick taker for vice champions of 2014 FIFA World Cup. It was a horrible kick with so much speed and directionless. Gonzalo missed the first penalty kick, but worst was yet to come for Argentina.
Read also: Argentina vs Colombia 5–4 Semi final penalty video
Now Chile were leading with 2–1 and they had third chance of scoring. Aranguiz puts his side 3–1 up in the shootout. That was a good penalty. He was struck so much accuracy that the ball successfully crossed the line in the air.
All eyes were on Banega. They had to score this after first loss from Higuain. Be has his spot kick saved by the Chilean and Barcelona goalkeeper Claudio Bravo. The penalty was also not good enough.
Chile were only one goal away from being the champions of Copa America. The penalty kick was take by none other than Arsenal forward Alexis Sanchez. Surprise for Romero, a beauty chip that claimed the 2015 Copa America trophy for the home side.
Chile Vs Argentina 4–1 Penalties Results
| | | |
| --- | --- | --- |
| Penalty taker | Result | Score |
| Fernandez | Scored | Chile: 1 — Argentina: 0 |
| Lionel Messi | Scored | Chile: 1 — Argentina: 1 |
| Arturo Vidal | Scored | Chile: 2 — Argentina: 1 |
| Gonzalo Higuain | Missed | Chile: 2 — Argentina: 1 |
| Aranguiz | Scored | Chile: 3 — Argentina: 1 |
| Banega | Saved | Chile: 3 — Argentina: 1 |
| Alexis Sanchez | Scored | Chile: 4 — Argentina: 1 |
The celebrations begun just after the last penalty of Alexis Sanchez. The hosts ended the drought of 99 year Copa America title drought. Arturo Vidal was somewhere near that level against Argentina. Vidal came into his own when Argentina started to tire late on in the game, and into extra time — pushing higher up the pitch to press the opposition into mistakes.
So relive the penalty shootout video of Chile vs Argentina 4–1 and feel free to share this video with other football fans across the globe.