Once again, the Italian manager Carlo Ancelotti's speaks about the criticism of Cristiano Ronaldo. After scoring 50 again, Ronaldo have reached a new milestone of his football career, but along with this achievement, he is facing lots of criticism. In order to face this situation, Real Madrid manager Carlo Ancelotti came forward and said some few words about the fans at Santiago Bernabeu. What he said about those fans who are booing Cristiano Ronaldo.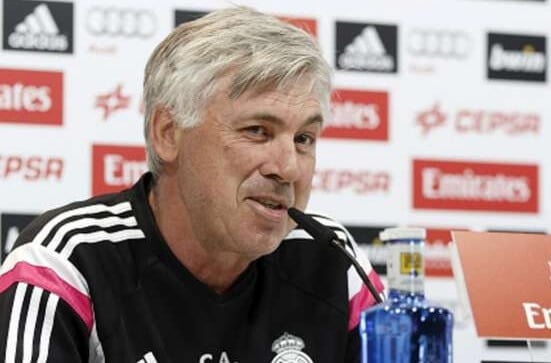 Ancelotti Don't Know Why Real Madrid Fans Booing Cristiano Ronaldo
On 18th of April against Malaga, Cristiano Ronaldo scored 50th goal of the season. But after that, he failed to score in last three games in all competition. He faced huge criticism for an allegedly petulant reaction to Alvaro Arbeloa beating him to a tap-in in Wednesday's 3–0 win against Almeria at home ground.
Carlo Ancelotti said "I think if Ronaldo has scored 50 goals is precisely because of its nature. He is never happy with what he does, always fighting. That is why he scores 50 goals in a season and he has been doing that for such a long time."
"I do not understand why the Santiago Bernabeu whistles Ronaldo."
Of-course, the manager don't want this behaviour from home fans specially at the end of the season where the club needs him most. When most of players are suffering from injury, Ancelotti can't afford these kinds of criticism to his players.
Real Madrid will now play against Sevilla at Roan Sanchez Pizjuan on this Saturday. Sevilla played draw against the league leaders Barcelona at same ground which is another threat for the visitors. Madrid have to win this game to remain in the competition.
It is expected that Gareth Bale would be fit to face the current Europa League winners. He player is recovering from calf injury and he is most likely to appear in this game. Carlo Ancelotti refused whether Bale and Karim Benzema, who has been out of action with a knee injury.
He said "I think he'll be ready. I have good options for the midfield. I will decide tomorrow if he will play. Are Bale and Benzema fully recovered? We will not take risks. It's not the last game of the season."
"If a player is available, he will play. They may not be in conditions to endure 90 minutes but they are fit. However, we will not take risks."
Real Madrid are currently at the second spot in current league standings of La Liga 2014–15. The Vikings became the first ones who scored more than 100 goals in domestic league. Will they continue their winning run against Sevilla?