France football team is also known as Les Bleus [The Blues] & Les Tricolores [The Tri-colors] as nicknames. Hugo Lloris is the current captain of this France football team for the upcoming world cup of 2014 which is begging from 12-06-2014 in Brazil. This national football team played first match against Belgium on 1st May 1904 in Brussels which was an away match. The first ever match of France comes to an end with a draw of 3–3. France has played 13 times FIFA World Cup & this is the fourteenth appearance of France in world cup.
Captain of France football team for 2014 World Cup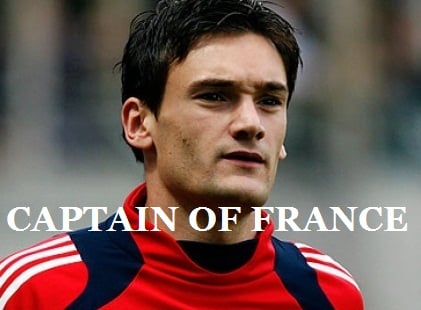 Hugo Lloris is the captain of France national football team who is holding the charge France captain from 2012. for the upcoming world cup. He is currently playing for England football club Tottenham Hotspur as a goalkeeper. For his national team, he made 54 appearances. The 27 year old player is known for his great goal keeping skills & techniques. See Also: France New Kit In the year of 2005, Hugo Lloris won UEFA European Under 19 football championship. later, he was awarded with Goalkeeper of the year in 2008-09, 2009-10, 2011-12 in Ligue 1 competition. In April 2008 & September 2009, he won UNFP player of the month award.
Awards of France Captain Hugo Lloris
Award

Year

Lyon

Coupe de France

2011-12

Trophee des champions

2012

International

UEFA European under 19 football championship

2005

Individual

Ligue 1 Goalkeeper of the year

2008-09, 2009-10, 2011-12

Ligue 1 team of the year

2008-09, 2009-10, 2011-12

UNFP Player of the Month

April 2008, September 2009
In last world cup, France has not won a single match. This national team played against Uruguay, Mexico & South Africa in group stage. But this time, the team can make big changes in Brazil world cup. Their players like Franck Ribery, Paul Pogba, Karim Benzema, Raphael Varane are in great form.