Anatolly Tymoshchuk believes that Pep Guardiola can repeat treble win of Jupp Heynckes just like he did with his last club FC Barcelona. The Spanish manager Pep Guardiola have have planned to stay with Bayern Munich as the manager is enjoying one of the most balanced football clubs. He won some trophies in his debut as manager with FC Bayern and is now looking to add some more titles in Bayern's trophy cabinet.
Tymoshchuk: Guardiola's Bayern Can Win Treble
Former Bayern Munich midfielder Tymoshchuk played for Bayern Munchen for four years, a spell which culminated in Bayern winning the Champions League, Bundesliga and DFB Pokal in 2012–13.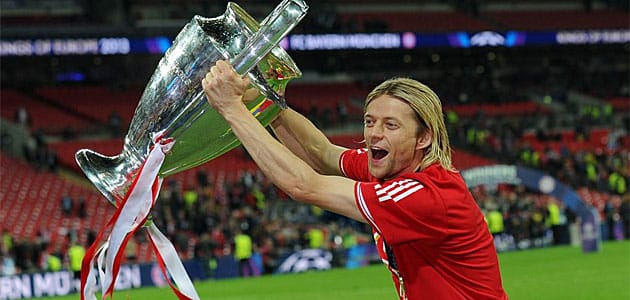 Bayern's will welcome Shakhtar Donetsk on Wednesday in second leg of round of 16 match. Both teams failed to score a goal in first leg and the game ended with 0–0 draw.
He told to goal "Jupp Heynckes' team made some extraordinary achievements, particularly in winning the treble. Buy any coach needs time to create his team and to develop the team in his vision of football. Heynckes needed it, now Guardiola needs it as well."
"Bayern are a very strong team and I am sure they are capable of achieving what Jupp's team did. I have no doubts about this because Bayern have everything: history, tradition, ambition, motivation and top class players, coaches, fans and management. That is why Bayern are a top club."
"Bayern are playing at home where it is difficult for any opponent and they are favorites to go through. Shakhtar will not change their style of football. They will try to use the wings, playing fast and on the counter. They will go for any away goal and if they score they can create problems for Bayern."
"Bastian is a very talented and versatile player who can play in different positions. If he is given the right job, he can be very useful for the team. He has proven this with Bayern and the national team."