Buy Cristiano Ronaldo Silverware Nike Mercurial Superfly 2015 Boots: Presenting the all new silverware soccer cleats by Nike which are specially designed for Real Madrid winger Cristiano Ronaldo. These shoes are launched for the upcoming El Clasico of 22 Mar 2015 that is to be played at Camp Nou. On 18 March, Nike revealed the Silverware boots and announced on Twitter. If you are planning to buy new football boots, then you should have a look on these new fresh launch.
Buy Cristiano Ronaldo Nike Silverware Superfly 2015 Football Boots
Few weeks ago, we have showed you the leaked pictures of Nike Mercurial CR7 Silverware 2015 boots and now these boots are unveiled for the fans of Cristiano Ronaldo.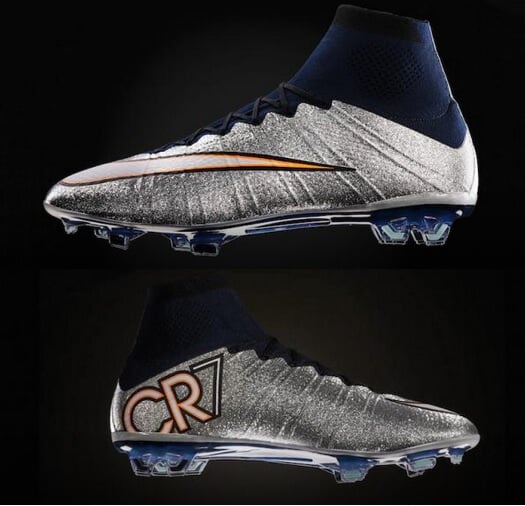 The new silverware boots of Ronaldo are so called because of their design. These are featured with shiny silver upper with a contrasting midnight Navy Dynamic Fit Collar for which Superfly is known for. In its manufacturing, White / Black CR7 signature / Orange applications are used. You can now purchase them online. All you have to do is click on the link which is given below. Buy Cristiano Ronaldo Silverware Nike boots here: Buy now On the upper surface, there is a white colored Nike swoosh which is surrounded by black and orange borders. The inner sole is provided with white and cyan applications with some black dots. The one-piece, tongue-less silver upper of the new Nike Mercurial cleats combines Flyknit, Nikeskin and ACC. At the back of boots, the signature "CR7" is printed with black, white and orange applications. The out sole of the boots have six studs at front area and four on rear area. A white colored Nike swoosh is also there at the front of outer sole. A tweet was also tweeted on Twitter by Nike featuring these boots.
Built for speed. Made for trophies. Get the #Mercurial Superfly CR7 Silverware only in the App http://t.co/qKVc7DR0nE pic.twitter.com/al0derZoZu — Nike Football (@nikefootball) March 18, 2015
You saw my new CR7 #Mercurial on @Nikefootball's Snapchat! Now get it in the Nike Football App http://t.co/tXAjIBbTCZ pic.twitter.com/AV50LohFXi — Cristiano Ronaldo (@Cristiano) March 18, 2015
They look like something Marc Bolan would've worn on Top of the Pops in 1974 and we can't quite decided if that's a good thing or a bad thing. Specially designed to meet the demand of speed, these are the most advanced football boots on the market with a Dynamic Fit collar. One of the best parts of Nike Silverware Mercurial boots of Cristiano Ronaldo is that these are also featured with a carbon fibre sole plate. Ronaldo will wear these boots in his upcoming match against Barcelona. Few days ago, Adidas also unveiled new boots Lionel Messi Pibe de Barr10. This means in El Clasico, we'll have another rivalry between Adidas Pibe de Barr10 vs Nike Silverware Superfly boots. You can buy these Cristiano Ronaldo Silverware 2015 boots from some selected outlets. Do you like these new shoes of Ronaldo?