Are you looking to buy the latest jersey of Portugal? You can buy the all new Nike Portugal jersey which is recently launched by the American giant Nike from FIFA.com. These new jerseys are now available for online purchase depending on your location. In last international friendly match against Cameroon, the Portuguese players wore this latest T‑shirt for the first time after the launch. Here is the procedure of how to buy Portugal jersey of FIFA World Cup 2014 online. Price, availability & features details are also available here.
Buy Portugal Jersey 2014 World Cup Jersey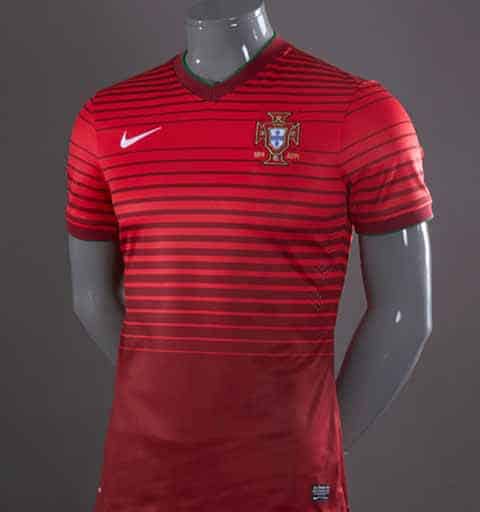 You can buy the all new t‑shirt of Portugal from official of FIFA which is FIFA.com. The current price of this jersey on FIFA.com is $89.99 for home jersey. Right now, home jersey of Portugal is available & very soon away t‑shirt will be available. It is available in almost all sizes: small, medium, large, X large, 2X large. Follow the instructions to buy it. Buy Jersey of Portugal 2014 World Cup: FIFA.com Current price: $89.99 Size availability: Small, Medium, Large, X Large, 2X Large.
Design of Portugal New Jersey
Nike, the kit supplier of Portugal designed a very unique t‑shirt for Cristiano Ronaldo's squad. We've not seen stripes on this national jersey before. But, in this jersey, there are thin horizontal stripes. It comes mainly with red as main color with some applications of green linings. Logo of national team is at left chest & logo of Nike is designed at right chest in white appearance. As Portugal has completed 100 football years, Nike has designed badge of 1914 and 2014 to commemorate their 100 year anniversary. Sleeves are provided with green ends. Inside the back collar is a red and green pennant with the Armillary sphere to honor Portugal's seafaring history. It is manufactured with recycled plastic bottles. Note: If you are residing outside USA, then you may have to pay custom fees. So buy this latest jersey of Portugal & support your team in this world tournament.