One of the most advanced football boots of Nike i.e. Nike Mercurial Superfly CR7 Gala boots are now available for online purchase. Few days back, the American sports kit supplier Nike unveiled their new football boots for Cristiano Ronaldo. After back to back CR7 collection boots of Ronaldo, this is just another brilliant launch of Nike. If you are fan of Cristiano Ronaldo and are looking to purchase these new boots of CR7, then you have just reached your destination.
Buy CR7 Nike Mercurial Superfly Black Gala Boots Online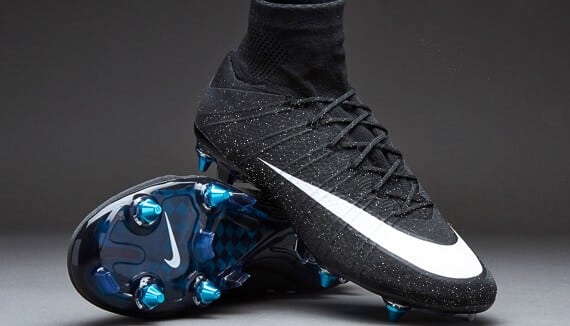 These boots are officially called as Nike Mercurial Superfly CR7 Black / White / Hyper Turquoise, designed with a shimmering finish to bring Cristiano Ronaldo's glamorous post match life to the pitch.
Designed mainly with black background on which white colored applications are marked. On inner side, the CR7 signature is there in white application branding the name of Real Madrid forward. At the front of it, Nike swoosh trademark is there in white. It is also available in small size on bottom of heel in same appearance.
With advanced features and stunning design, the engineers have used their most advanced technology for its manufacturing. The full length carbon fibre outsole of the new black Nike Mercurial Superfly Cristiano Ronaldo Gala Cleat is mainly black / hyper Turquoise creating a unique glamorous effect with light blue studs. The new Nike Mercurial Superfly CR7 Gala football boots are available now.
Read also: Adidas White Green Boots
You can purchase Nike Mercurial Superfly CR7 Black Gala Boots online from Prodirectsoccer.com, an online store of football collections. In order to purchase these boots online, click on the link: Buy now
Price of Nike Mercurial Superfly CR7 Black / White Boots
Inspired by the new way CR7 shines on the pitch, his signature Nike Mercurial Superfly SG Pro football cleats features a shimmer effect designed to stand out in the sun or under lights on soft ground. These SG Pro boots are available at an approximate price tag of £260.00 [Prodirectsoccer.com]. Price may vary in different in different countries.
Cristiano Ronaldo wore these boots on 25th October 2014 in El Clasico against Barcelona. He also scored one goal with penalty and his team made another victory over their El Clasico rivals. Nike also made a film tagged with "Out of this world". Have a look on the video and enjoy your watching.