Introducing the all new jersey of New York City FC, the new soccer club of Americas main football competition i.e. Major League Soccer. The home jersey of NYCFC is now available for online purchase. Kit manufacturer Adidas unveiled the new home t‑shirt of New York City for the inaugural season of MLS.
If you have seen the home kit of British club Manchester City FC, then you'll notice, the jersey is quite similar with that of English club. It is mainly designed with blue as main appearance on which white and Navy blue applications are available. The badge of this club is selected by the fans which is inspired by the old New York City subway.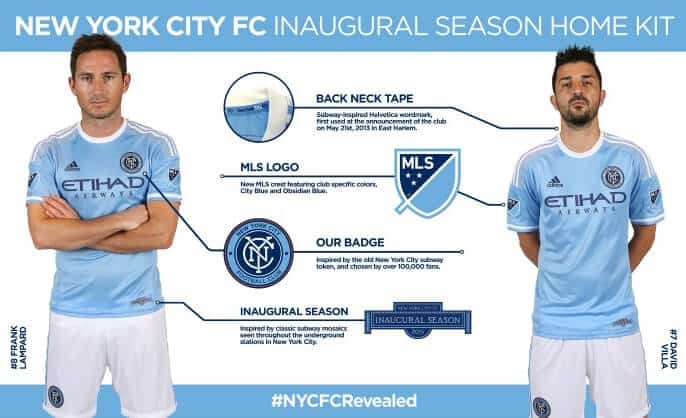 You can purchase the brand new home jersey of NYCFC from worldsoccershop.com which is known as one of the leading online soccer shops. Price of this jersey as on 3 March 2015: $84.99. To buy this jersey, click on the link which is given below. Buy jersey of New York City here: Buy now Price: $84.99 At worldsoccershop, you can also customize your jersey, like adding name or number on its back. For printing name and number, you will be extra charged. Orders shipping outside the United States are subject to custom fees. At the front of this jersey, the badge of club is on left chest in Navy blue and white appearance. This badge is selected by the fans, which is inspired by the old New York City Subway Token, created by the Transit Authority in 1953, used for 50 years. Collars are in simple, classical and in white appearance. On shoulders, three white colored stripes are there. Banner of "Etihad Airways" is at the center. Sleeves are provided with single white stripe. About the first new home kit of club, the sporting director of club Claudio Reyna said "We are delighted with the look and feel of our first home uniform, which hope our fans will love as much as we do. Presenting it for the first time makes us even more excited about our first season in MLS and seeing our team wearing it on the field." So purchase the home jersey of New York City today and support your team in inaugural season of Major League Soccer.