Online purchase of Lionel Messi football Jersey in India with Indian price information
Are you looking to buy official jersey of Lionel Messi in India? They have just landed to a page where the complete procedure of online purchase is available. Both Nike and Adidas are the kit supplier of Messi for club and country. Barcelona jersey of Messi has been designed by Nike, while that of Argentina is provided by the German supplier Adidas. However, you can purchase both jersey also.
Buy Lionel Messi 2014–15 Barcelona Jersey Online
Buy Messi Barca jersey
Price: $140.45 [INR 8752.14]
All three Barca t‑shirt of Leo Messi are available for online purchase. The home jersey is in legendary blue and red appearance with vertical stripes at the front and at the back of jersey. Club's crest is at the left side, while Nike swoosh is on right side in yellow appearance.
On its back, name and number of Messi is printed in yellow. The soft Dri-fit moisture wicking technology keeps you comfortable. Collar is in classical with a Catalan flag at the center. Sponsor logo of "Qatar Airways" is featured below embroidered logos. Remaining jerseys are in yellow and orange appearance which are also looking impressive.
Buy Lionel Messi 2015 Argentina Jersey Online
Buy Messi Argentina 2015 jersey
Price: $112.44 [INR 7006.70]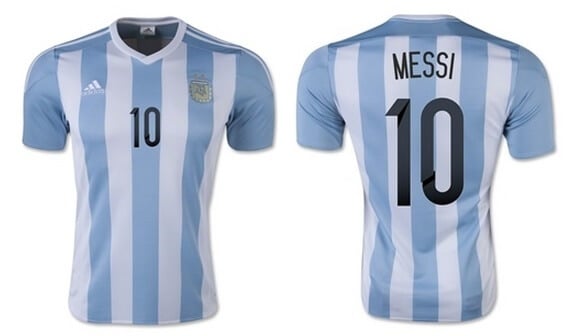 The Argentina jersey of Messi for 2015 is designed by Adidas as the club is official kit supplier of national football team. Adidas unveiled the Argentina Copa America 2015 jersey in 2015 which is also available for online purchase.
Related: Buy ISL Jerseys Online
The jersey retains the traditional sky blue and white applications along with gold and black linings. Black stripes of 2014 jersey have been replaced by white. V‑shaped collar is looking perfect match of home jersey. Three sky blue and four white stripes are marked at the front and at the back. Name and numbers are in black.
Related: Buy Cristiano Ronaldo Real Madrid Jersey Online
It is also featured with vented panels with Adidas Clima cool technology that helps you to cool down during extreme intensity. With authentic player letters and numbers, it is yet another great launch of Adidas. Light in weight and long last jersey of Lionel Messi is good choice for those who are in search of purchasing new football jersey.
Note: Footballwood is not selling these jerseys, it is just to guide you to purchase jersey of Lionel Messi.
So purchase these brand new t‑shirts of Lionel Messi and support your player in great way.