The official jersey of Germany is now available for online purchase. World's leading sports brand kit supplier Adidas has launched this new kit of Germany for 2014 FIFA World Cup few months ago. This is the first German national football team jersey which is designed with updated DFB badge. Adidas has introduced simple & an impressive t‑shirts for their team which is getting great response from audience. So if you are planning to buy a new jersey of FIFA World Cup team,t hen you must have a look on this.
Buy Germany Home & Away Jersey Online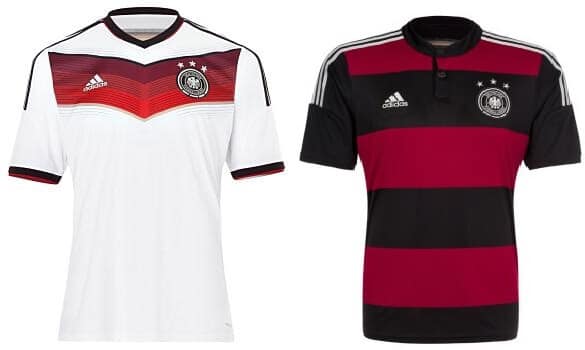 In order to buy T‑shirt of German football team, you can place your online order on official website of FIFA which is FIFA.com. From this place, you can purchase any jersey of any team. The current price of home jersey of Germany mentioned on FIFA.com is $119.99. You can also choose size of t‑shirt. This is the Authentic home soccer jersey of Germany. Given below are the full details. Buy new 2014 Germany home Jersey: store.FIFA.com Price: $119.99 Size Availability: Small, Medium, large, X Large [2X & 3X] Buy Germany 2014 Away Jersey: store.FIFA.com
Germany 2014 Jersey Details
It is a perfect combination of white with red & black linings. Three chevron-shaped bands are designed on the chest in differing shades red color. The design is meant to be a new interpretation of Germany Flag. On shoulders three stripes are there which starts from neck to the center of arm. Also Buy Jersey: Spain, Portugal, Argentina Away jersey is quite different from home jersey as it is manufactured with red & black as main color. Also, there are some appearance of white color which is used for the linings. Logos & Badges are on same place but with different color applications. Both home & away t‑shirts are light in weight as these are designed with 100% polyester fiber. So, put your order to support your national team in this world cup.