There is a good news for the Barcelona fans in India. Now they can purchase Barcelona new 2014–15 kits online in India from a third party reseller which is myantra.com. The new season is about to kick-off, so it is good opportunity to fans who are die hard fan of this Spanish club. After Manchester United, Barca have highest number of fans in Asia specially from India. But how to buy online jersey of Barcelona in India? For this just continue to read this & place your order now.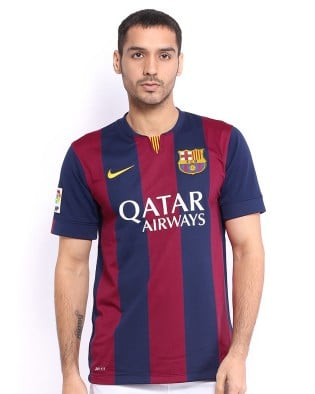 Buy Barcelona 2014–15 Jersey Online in India
You can purchase the new jersey of Barca from one of leading online store i.e. Myantra.com. Both home as well as away kits are available on that online store with a brief description of every kit. Only Jersey purchase is also available for those who are looking to buy only T‑shirt. Follow the simple steps below.
Buy New 2014–15 Kits of Barcelona from here: Click here

Click on any jersey which you wants to purchase.

Select size & then click on "buy now" button.

Login to Myantra, if you don't have any account or you can simply logi‑n with Google+ or Facebook.
Warranty: 6 months of warranty is also available for the fault of manufacturing. But remember that, this warranty is available for the products of less than 20% discounts. These jerseys are available at very affordable price. On Myantra.com, the current price of this new jersey of Barca is Rs.3,795 [On 29–7‑2014]. It starts from Rs.2,395 to Rs.3795 based on sizes. Price of away jersey: Rs.3,495.
Details of New Barca 2014–15 kits
The new uniform is designed in vertical alternate stripes with color combination of navy blue and maroon which represents the identity of the club. Collars are designed in v‑shape with a small yellow & maroon stripes layout at the center of jersey. On left chest, there is logo of club & on right chest, there is logo of kit supplier Nike. Nike has used embriodered Dri-Fit technology in the manufacture of its design. Made with 100% polyester fiber for perfect finish & can be washed with warm machine. So place your order now & support your favorite team in new & passionate way.