Buy Adidas Pibe De Barr10 Lionel Messi Football Boots Online: Do you know you can now purchase the new soccer cleats of Lionel Messi called Pibe De Barr10 boots online as well as offline. The most advanced boots for Barcelona's top goal scorer are recently unveiled by Adidas. These White / Granite / Scarlet Leo Messi boots are featured with three color combinations.
Buy Pibe De Barr10 Lionel Messi Boots Online
The all new boots of Lionel Messi are available on worldsoccershop.com. This is one of the best online store for soccer accessories where lots of products are available for online purchase of original products. There is wide range of size available there. For juniors, adults and youngsters, different size options are available. The price for 10.1 FG White / Granite / Scarlet is $229.99 [worldsoccershop.com]. Just click on the link which is given below and place your online order now. Buy Messi Pibe De Barr10 boots here: click here Price of boots: $229.99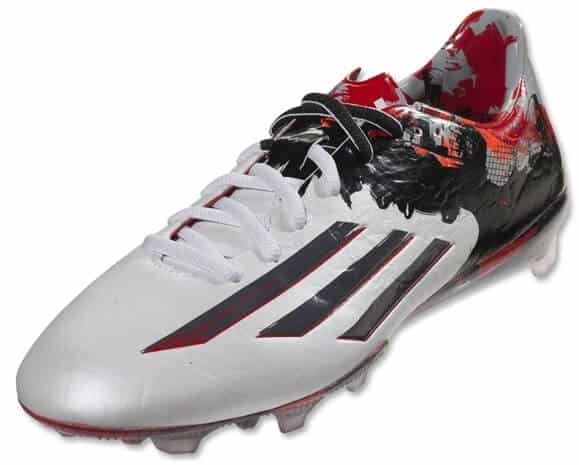 Talking about the design of these shoes, the Dribbletex raised 3D grip texture on the upper offers dribbling control in both wet and dry conditions. Rough and tough spikes are provided at the bottom of sole plate. This means you'll have a better control on ball and on your speed once they are in your feet. These are inspired by Messi's neighborhood in Rosario. On the front upper surface, three white colored Adidas three stripes are there which are featured with red borders are marked on white background. Two shades of laces are made: white and black. Related: Buy Ronaldo Silverware Mercurial Shoes online Remaining half is textured with black granite and scarlet applications. Name of shoes "Pibe De Barr10″ are written in white applications. You can see Messi signature on the heel of Lionel Messi Pibe De Barr10 boots in red. Color combination of white, red and black is looking just great.
Note: Footballwood is not selling any products. This is just to guide you how to purchase soccer shoes of Leo Messi. So don't wait more and purchase these new Pibe De Barr10 of Lionel Messi and enjoy football at new level.