One of the greatest Real Madrid players Butragueno told to reporters that Real Madrid have now 450 million fans across the globe. The Spanish giants Real Madrid did lot of work for their global marketing efforts on the United States in previous years. The team visited different cities of America just before the start of new season.
He said "The first country for visits to our website is the USA, then Colombia, Mexico, Indonesia and India." He also said that Madrid have huge fan followers on social networking websites.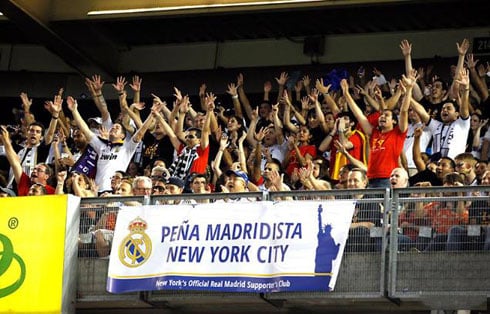 "173 million of our fans follows us. On Facebook, we have 108 million — Indonesia is the leader with eight million. On Twitter, the countries which follow Madrid most are Colombia, Mexico and Indonesia," he told to reporters.
"According to our research, we can speak about 450 million fans throughout the world." The comments were made at an even in the Spanish capital headlined "Madrid without borders." Mariano Lopez, director of Spanish magazine Viajar [Travel], told those present that no matter where he went in the world he saw evidence of Madrid's global reach.
According to club's research, around 6% of world's current population were supporters of Cristiano Ronaldo, Gareth Bale, Iker Casillas and company. They also stated the club have fans in 186 nations out of 193 countries.
"In the Burmese jungle, in a dispensary run by Buddhist monks, I go in and I see Kroos on the television," Lopez recalled. "It turned out they were showing the Spanish Supercopa and the monk had been watching a repeat."
Last year was one of the best years of Real Madrid in which they won four trophies which consists of UEFA Champions League, Copa Del Rey, UEFA Super Cup and FIFA Club World Cup. Those trophies attracted more fans towards Real Madrid which is also one of the big reasons of their huge fan following.