After leaked photos of some professional football clubs, the final match ball of FIFA World Cup 2014 is leaked which will be used in final game. On 18th Feb 2014, the images of final match ball are leaked. The supplier Adidas Brazuca has made some changes in this new one. It is looking very dynamic as why not as it is designed with best technology of the German based kit manufacturer Adidas. Continue to read to know more about the final match ball.
Adidas Brazuca World Cup Final Match Ball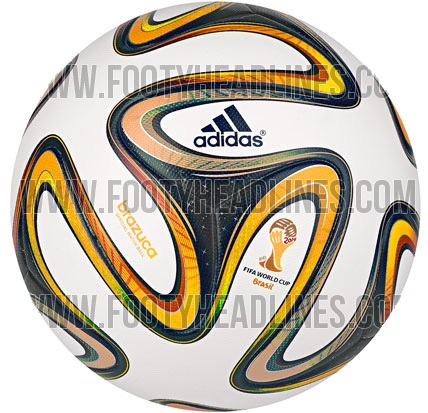 The 2015 World Cup final ball takes place in the legendary Maracana stadium on final match of 13 July 2014. Right now Adidas has not revealed this ball but it is expected to be launched in the month of June. It is designed with combination of white gold & black colors. White color is used as main appearance which acts as background of it. In the month of December 2013, we have seen launch of official match ball of world cup & now its final match ball is leaked. It is featured with a revolutionary design to allow the ball to fly faster with more accuracy. It gives appearance of UEFA Champions league match-ball at some extent.
Details of Brazuca Final Match ball
On its upper surface, gold with black colored zig-zag patterns are made. The logo of kit supplier Adidas is also in black color. At the center, all three zig-zag curves meets with each other. On sides of this junctions logos, of Adidas, name of ball & World cup logo are designed alternatively. The trademark of World cup is also in golden appearance as well as name of ball i.e. brazuca is in same color. The bladder of the Brazuca is made of latex & provides the desired rebound. It has total of 6 polyurethane panels which are bonded to keep the ball same weight & roundness in even the thickest of rain. This is called as Official Match Ball [OMB] which has been stated to be more aerodynamic than the Jabulani [used for last world cup]. Its name was revealed on 2 September 2012 by FIFA based on votes of fans. More than one million fans voted for its name. If you are looking to buy this final match ball, then you have to wait till August 2014. It will be available for purchase form August 2014. Till then you have to wait for this ball.