Brazil Women Team Squad, Fixtures For 2015 FIFA Women World Cup: Confederacao Brasileira de Futebol has announced Brazil women team roster for Women Football World Cup 2015. After playing seven World Cups, Brazil's women team will play eighth edition. Six times Copa America winners have not won football world cup so far. So they will be more hungry this time. The super champions of South America have not tasted the taste of football's biggest competition. Will they lift the trophy this time? Let's take a look on girls team squad of Brazil women team selected for this tournament.
Brazil Women Team Squad Roster For 2015 FIFA Women's World Cup
Being six times champions of Copa America out of seven editions, they are yet not the strong contenders to win this title. The presence of United States and Germany could make their journey more difficult. They are good against small teams, but when they play against some big giants like Japan, Germany, France and USA, they lags behind with huge difference.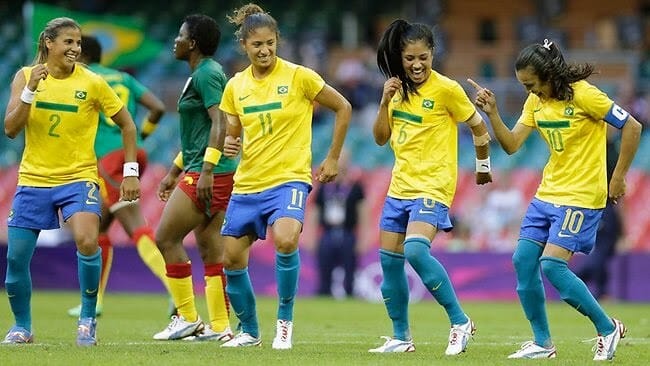 If you have seen football in 80s, Brazil women's football team was struggling at international level. In the year of 1986, they managed just three wins out of 32 games. If you are Brazil fan, then you would not like to see their head to head results verses Germany as they managed to win just one time out of 11 international meetings.
Related: Canada Women team of 2015 women football world cup
However, fans of the team will be encouraged perhaps given that Brazil has fared better against team USA in recent times. They have defeated them in December 2014 by 3–2 and followed that up with a draw a week later. Team's star player Marta is taking the women's team to new heights who will be one of the players to watch in Canada World Cup. The team squad of Germany for FIFA Women World Cup 2015 is also announced.
Marta, the all time top goal scorer of Brazil have netted 92 goals so far in his international career. Cristiane is following her after scoring 74 international goals who is at the second spot in the list of all time top goal scorers.
Player name
Club
GOALKEEPERS

Luciana

Ferroviaria

Barbara

Kindermann

Leticia

Sao Jose

DEFENDERS

Fabiana

Centro Olimpico

Monica

Ferroviaria

Erika

Centro Olimpico

Tamires Dias

Centro Olimpico

Poliana

Sao Jose

Gessica

Ferroviaria

Tayla

Ferroviaria

Rafaelle

San Francisco

MIDFIELDERS

Andressa

Kindermann

Beatriz

Hyndai Steel Red Angels

Thaisa

Ferroviari

Andressa Alves

Sao Jose

Raquel

Ferroviaria

Maurine

Ferroviaria

Formiga

Sao Jose

Gabriela

Centro Olimpico

Dariene

Centro Olimpico

Forwards

Rosana

Sao Jose

Marta

Rosengard

Cristiane

Centro Olimpico
Brazil Women Team Fixtures For 2015 Football Women's World Cup
La Canarinhas are in group Group E where they will play against South Korea, Spain and Costa Rica. Their first game is against South Korea against whom they will play on 9th June 2015. They finished at second place in 2007 World Cup which is their best finish in their history.
Brazil vs South Korea: 9th June 2015
Brazil vs Spain: 13th June 2015
Costa Rica vs Brazil: 17th June 2015
With women team squad of Brazil for 2015 FIFA Women's World Cup and schedule, we wraps up this article. Keep visiting the other pages of Footballwood.