Borussia Dortmund & Bayern Munich are the top 2 professional football clubs. Both clubs play for German League Bundesliga which is also one of the top football league all over the world. The club Bayern Munich is also called as The Bavarians as nick name & the other Dortmund called as BVB as their nick name.
The home stadium of The Bavarians is Allianz Arena which is in Munich. On the Other Hand, BVB's home ground is Signal Iduna Park which is located in Dortmund. Here are the head to head matches of Borussia Dortmund Vs Bayern Munich.
Borussia Dortmund Vs Bayern Munich Head 2 Head All matches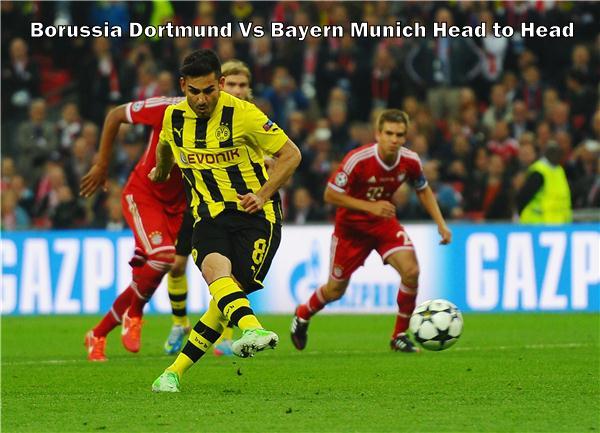 In head to head competition, The Bavarians are looking stronger as compared to their rivals. Both teams faced each other in total of 98 games in all competition including home league UEFA Champions League.
In these matches, Munchen won 42 matches whereas BVB won 27. The rest of 29 games were draws. So lets start their all matches statistics.
All Match Results of Bayern Munich Vs Borussia Dortmund
Here is the list of all matches played by the 2 teams against each other.
Date
Time
Bayern Munich
Borussia Dortmund
Bundesliga

04-05-2013

18:30

1

1

01–12 ‑2012

18:30

1

1

11-04-2013

20:00

0

1

19-11-2011

18:30

0

1

26-02-2011

18:30

1

3

03-10-2010

17:30

0

2

13-02-2010

18:30

3

1

12-09-2009

15:30

5

1

08-02-2009

17:00

3

1

23-08-2008

15:30

1

1

13-04-2008

17:00

5

0

28-10-2007

17:00

0

0

26-01-2007

20:30

2

3

11-08-2006

20:45

2

0

13-05-2006

15:30

3

3

17-12-2005

15:30

2

1

19-02-2005

15:30

5

0

18-09-2004

15:30

2

2

17-04-2004

15:30

0

2

09-11-2003

17:30

4

1

19-04-2003

15:30

0

1

Super Cup

27-07-2013

20:30

2

4

12-08-2012

20:00

2

1

23-07-2008

20:30

1

2

DFB Pokal (Germany)

27-02-2013

20:30

1

0

12-05-2012

20:00

2

5

19-04-2008

20:00

2

1

UEFA Champions League

25-05-2013

20:45

2

1