The all new Adidas Adizero F50 black and solar green 2015 football boots have been leaked. These new football boots looks alike of last year's Adidas F50 Solar Slime. With a typical physical appearance and new design, Adidas is all set to launch their new boots of Adidas Adizero F50 family. Some pictures and information of these soccer cleats have been leaked which we are sharing with you right over here.
Black Solar Green 2015 Adizero F50 Boots of Adidas
The all new solar green football boots of Adidas are designed with one of a kind green graphic print on the upper. This new design looks like skin of a snake. Means Adidas have introduced the all new shoes that gives appearance of snake. But the actual reason behind the creation of this skin is provide a better ball control.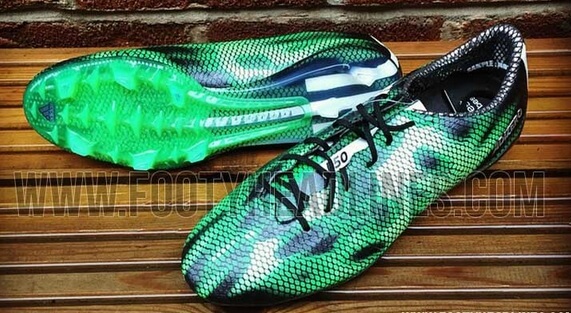 There are no stripes on the upper portion of these shoes that we saw of previous launches. This time, Adidas have marked their three stripes on the bottom of heel and on tongue. Given below is the leaked picture of Adidas Adizero F50 black and solar green football shoes.
Bottom of heel is provided with black background on which three white stripes are printed. Front sole of the boots is in solar green. A second layer for better traction is also provided on the outsole. Check out Adidas Adipure 11Pro SL
Front sole is featured with different types of studs, while bottom heel have only three white spikes. On the upper portion, graphic print is provided to stand out on the pitch. The tongue of black — green Adizero F50 boots is featured with name "F50" in black color on white back ground.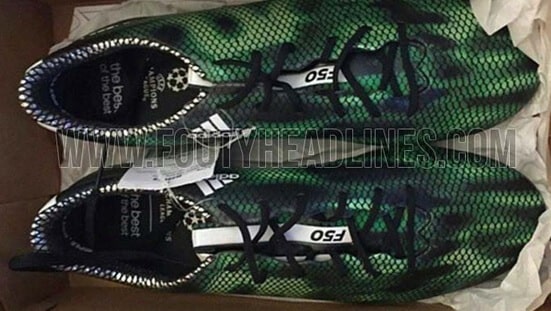 Adidas will unveiled black and solar green boots at the end of February 2015. These boots will be worn by Lukas Podolski, Lorenzo Insigne, Arjen Robben, David Alaba and Karim Benzema.