Belgium football team recorded their best ever FIFA rank as they occupied 2nd spot. According to latest FIFA rankings, Belgium are at second spot in June 2015 FIFA rankings. The Red Devils are on fire. They are currently at the top of Group B in UEFA Euro 2016 qualifying. Indian National Football Team also jumped six positions. The World Cup winners of 2010 saw huge fall. La Roja are currently at tenth spot with 1147 points. Portugal also lost international points and dropped to seventh rank in current FIFA rank. World champions Germany still at the top spot, followed by Belgium at second position. Vice World Cup champions Argentina are at third spot with 1509 points.
Belgium Ranks 2nd In Latest FIFA Rank
The Belgians possess a squad full of talent and have experienced an upturn in fortunes recently, getting to the quarter-finals of the 2014 World Cup in Brazil. They were knocked out by Argentina in quarter final round. The Red Devils were at 71th spot in 2007 and within 10 years, they jumped 69 places in eight years.
Read also: Messi 2015 Copa America HD Wallpapers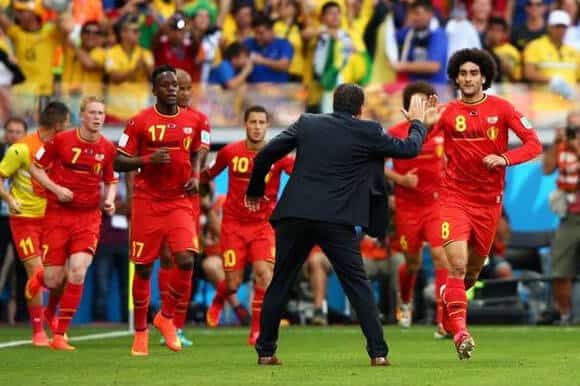 Belgium is a team which is full of young footballers. The likes of Vincent Kompany, Eden Hazard, talented young goalkeeper Courtious Thibaut have huge credit behind Belgium's success. They had remarkable tournament summer World Cup and are few wins away to qualify for EURO 2016.
Read also: Chile vs Ecuador Copa America 2015 match time
Colombia and Brazil stayed at 4th and 5th spot respectively. France rose two spots to No. 9 in a swap with new No. 11 Switzerland. Costa Rica rose one to No.14 and leads CONCACAF nations. The United States climbed one spot to No. 27.
Check out the latest men football rankings released by FIFA
| | | |
| --- | --- | --- |
| RANK | TEAM | POINTS |
| 1 | Germany | 1775 |
| 2 | Belgium | 1509 |
| 3 | Argentina | 1496 |
| 4 | Colombia | 1435 |
| 5 | Brazil | 1392 |
| 6 | Netherlands | 1378 |
| 7 | Portugal | 1229 |
| 8 | Uruguay | 1183 |
| 9 | France | 1164 |
| 10 | Spain | 1147 |
| 11 | Switzerland | 1146 |
| 12 | Romania | 1115 |
| 13 | Italy | 1101 |
| 14 | Costa Rica | 1056 |
| 15 | England | 1051 |
| 16 | Czech Republic | 1036 |
| 17 | Slovakia | 1012 |
| 18 | Croatia | 992 |
| 19 | Chile | 989 |
| 20 | Austria | 946 |