Adidas has now revealed its first home kit of 2014–15 season for German club Bayern Munich. Earlier, we have showed you leaked pictures of home and away kit of this club. Now, these latest kits for the club are now unveiled. Lots of changes have been made with current kit. New Home jersey is made with combination of two colors which are described below. So have a look on New Jersey of 2014–15 kit of Bayern Munich football club.
Bayern Munich 2014–15 season New Home Jersey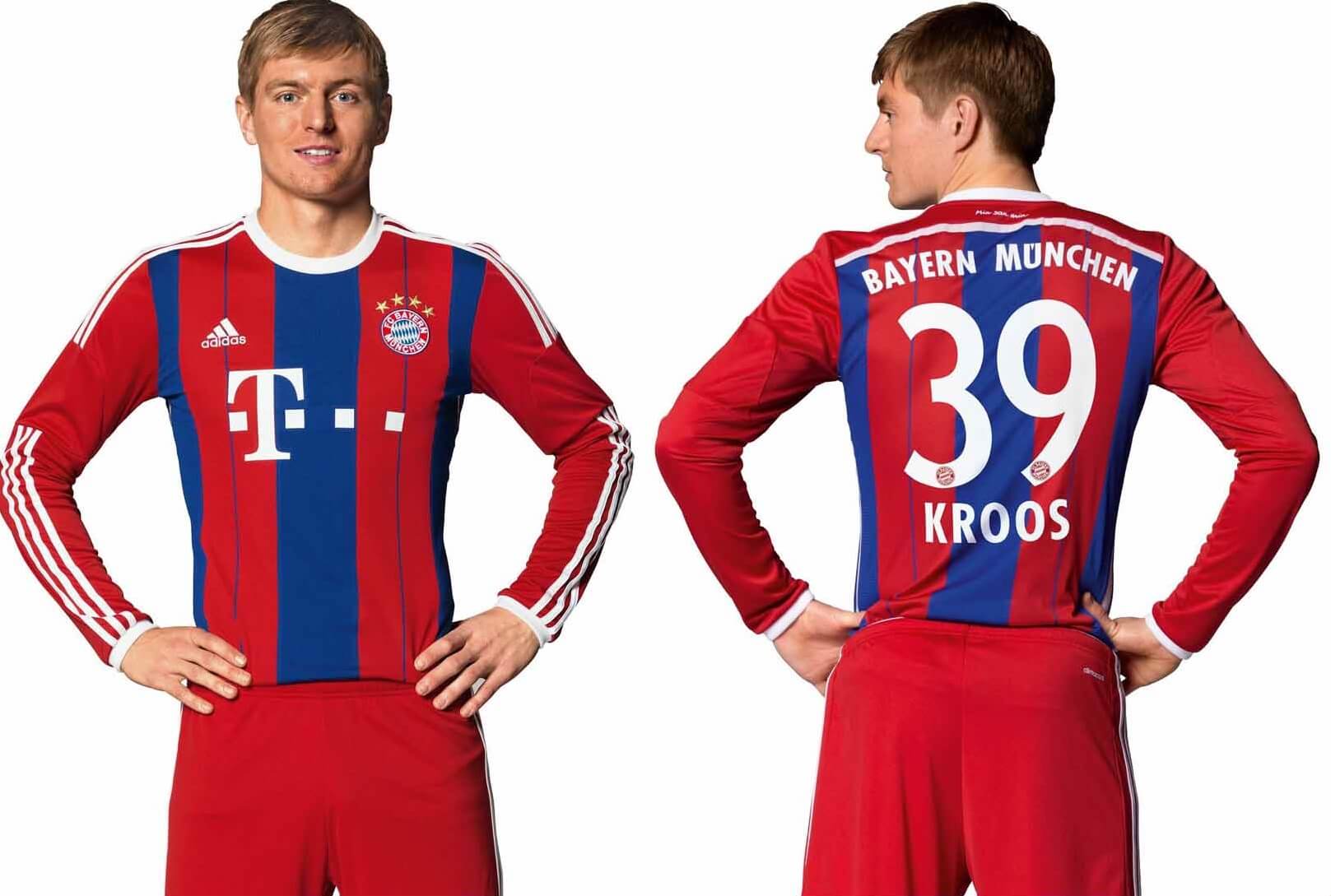 Jersey: The all new home jersey of Bayern Munich is designed with combination of red & blue color. On front as well as on back of the jersey, there are wide vertical stripes with combination of red & blue color. On shoulders, three stripes of Adidas are there which are made in white color. These stripes are made till the end of arms in full sleeves shirts. On left chest of the jersey, there is logo of club representing the club. While on right chest, the logo of kit supplier Adidas is designed in white appearance. At the center of these two logos, there is a badge representing the champions of FIFA Club world cup of 2013.

Shorts: Shorts are in almost same layout & color as that of last season. Red colored shorts for the home kit are designed with same spot of logo of club & that of kit supplier. On sides of shorts, there are 3 vertical Adidas stripes from waist to bottom.
Bayern Munich 2014–15 Goalkeeper
The Bayern Munich goalkeeper jersey is featured with black in major proportion. The design gives a rough idea of spider's web on front of jersey. Badges & logos are on same spot as that of home jersey. There are no stripes on Bayern's new away jersey except 3 stripes on shoulder. Badge of FIFA Club world cup is also there between two logos. Shorts: Away shorts are also in black color with 3 Adidas stripes. This away kit is totally different from that of season 2013–14. Both home & away kits are launched, but there are no words about the launch of third kit. However, there are some leaked pictures of Bayern Munich 2014–15 third kit.