Bar­celona vs Manchester City 18 March 2015 UEFA Cham­pi­ons League match pre­view, time and TV tele­cast chan­nels of round of 16.
Hav­ing a lead of one goal and two away goals, The Catalans will now wel­come Manchester City in return leg of pre quarter final of Cham­pi­ons League this Wed­nes­day. This is the fourth time in one year, both teams from dif­fer­ent nations are facing each oth­er. City nev­er won any game out of last three encoun­ters. The sea­son is turn­ing out to be a trophy-less for Premi­er League side. But the hopes of win­ning at-least one trophy are still alive. Can they qual­i­fy for the quarter finals of Cham­pi­ons League?
Barcelona vs Manchester City Telecast in India, Time
MATCH SCHEDULE
Com­pet­i­tion
UEFA Cham­pi­ons League 2014–15
Date
18 Mar [GMT], 19 Mar [IST]
Time
7:45 pm [GMT], 1:15 am [IST]
Sta­di­um
Esta­dio Camp Nou
Seat­ing capa­city
98,787 spec­tat­ors
Home team
Barca
Away team
City
Round
Round of 16
Tele­cast chan­nels
Ten Action, Ten HD, Radio Barca
World wide tele­cast chan­nels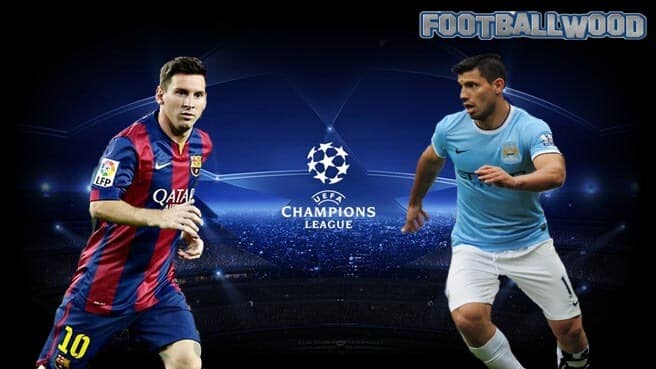 Spain : C+ Liga de Campe­ones / HD
United King­dom: NOW TV, Sky Extra, Sky Sports 5 / HD
India / Sri Lanka: Ten Action / Ten HD
United States: Fox Sports Go, ESPN Depor­tes, Fox Soc­cer 2Go
Argen­tina: ESPN Cono Norte, ESPN HD Lat­in
Aus­tralia: ESPN Aus­tralia, SBS One Aus­tralia
France: beIN Sports con­nect
Brazil: ESPN Cono Norte
Canada: Sports­net Pacific, Sports­net West
Chile: ESPN Cono Norte
Colom­bia: ESPN Cono Norte
Den­mark: TV3+ HD, Viaplay Den­mark
Fin­land: Viaplay Fin­land
France: beIN Sports Con­nect
Ger­many: Sky Go Deutsch­land, Tele­club sport Live, ZDF
Nor­way: Viaplay Nor­way, Viasat Fot­ball Nor­way
Singa­pore: 111 Mio sports 1
Sweden: Viaplay Sweden, Viasat Fot­boll / HD
Switzer­land: Tele­club Sport, Tele­club Sport 3
Thai­l­and: True Sport 1, True­vi­sions Stream­ing, True Sport HD 2
Ukraine: Fut­bol 1
Uruguay: Fox Sports Premi­um, Fox Play Lat­in Amer­ica
Match Pre­view
Cur­rent form
Pre­dic­tions
Bar­celona: WWWWW
Manchester City: LWLLW
The first leg of this round came to an end with 2–1 vic­tory of Barca at Eti­had sta­di­um. Luis Suarez was man of the match who scored both away goals in 16th and 30th minutes of first half. For City, Ser­gio Aguero was the only goal scorer.
After first leg res­ult, city man­ager Miguel Pel­legrini said "I don't agree that we had a prob­lem tac­tic­ally because we played with two strikers. Bar­celona played with three strikers. Real Mad­rid played with three strikers. I did­n't think I made a mis­take because one thing is what you want to do and anoth­er thing is what we did, which is a dif­fer­ent thing."
In last game of domest­ic league La Liga, The Catalans main­tained first spot in league table with one more win over Eibar. On the oth­er side, City lost against promp­ted team Burn­ley and dropped three import­ant points to com­pete against league lead­ers Chelsea.
Out of last 5 games in all com­pet­i­tion, Luis Enrique's squad have won all of them, dom­in­ated all rivals they faced. While, City won just two games out of last 5 matches and lost remain­ing three.
So enjoy the Bar­celona vs Manchester City match on your TV chan­nels and make pre­dic­tions in the com­ment box which is provided below.