The all new kits of Football club Barcelona are released by the kit supplier Nike. Few months ago, we showed you leaked picture of FC Barcelona new jersey. Now we are able to show you details of new jersey & shorts of home as well of Away games. Nike has made minor changes on home kit, but they did lot of experiments with new 2014–15 away jersey of Barcelona. Check out new kits of FC Barcelona for 2014–15 season with images & Wallpapers.
Barcelona New 2014–15 Home Kit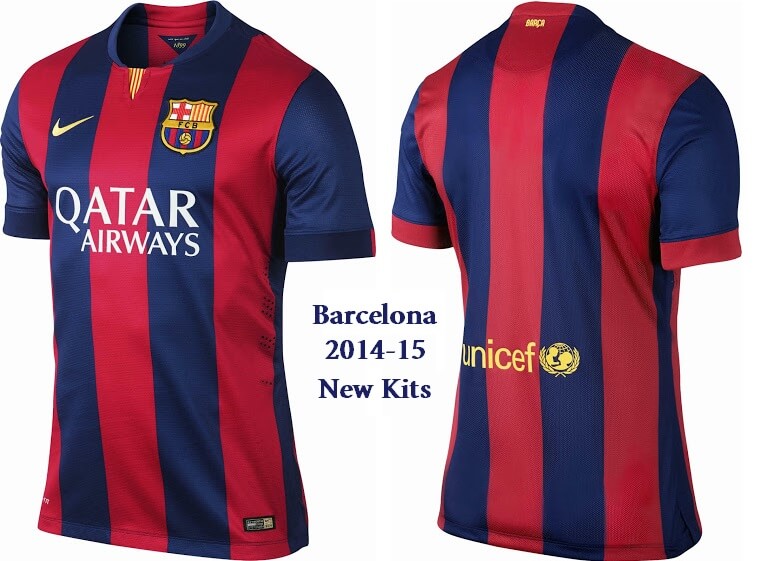 Jersey: As we have discussed that there are minor changes on home T‑shirt. Once again, Nike designed red and blue vertical stripes on front and on back which reflects the identity of club. These stripes were available on last jersey also, but on that jersey, stripes were designed with less thickness. In this home jersey, there are wide stripes on both sides. On collar joint, Nike has designed V‑shaped Spain flag which is looking quite impressive. On front of T‑shirt, badge of Barcelona club is there on left chest. On the other chest side, logo of Nike is available in yellow appearance. The name of sponsor company "Qatar Airways" is written in capital letters on center in white color. At the back, name of UNICEF is also written at the bottom in yellow. Read also: Chelsea New 2014–15 Kits Shorts & Socks: Home shorts are featured with blue as main color with a single stripe of red color from waist to bottom. At the bottom of right leg, there is logo of Barcelona, Whereas logo of American kit supplier Nike is marked on left leg in yellow. Home socks are also designed with combination of blue & red. Top of socks is red in color followed by blue color which used as background for socks. On this blue background, nickname of club i.e. Barca is written in yellow.
Barcelona New 2014–15 Away Kit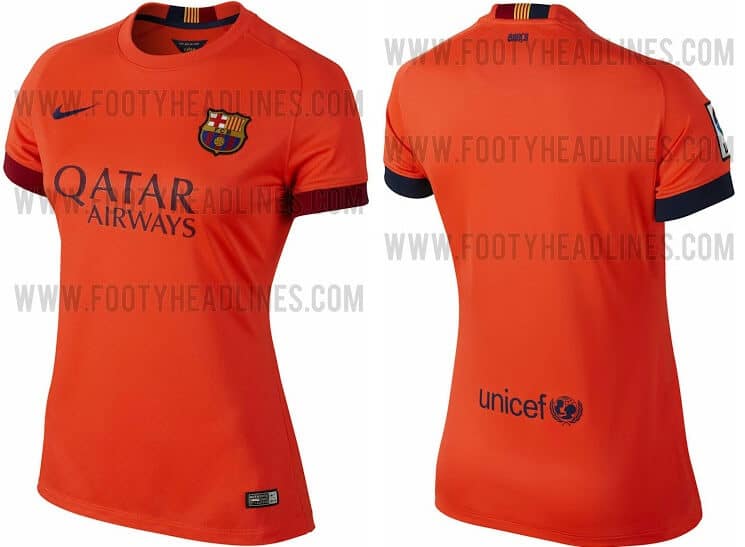 Away kit of Barcelona for 2014–15 season is looking alike of season 2009-10. For its manufacture, orange color is used as main color. It is featured with an orange crew-neck collar with a Catalan flag detail on backside, while the sleeve cuffs are in blue & red halves.
Read also: Bayern Munich 2014–15 Kits
Yellow applications of home jersey are replaced with blue in new away shirt. Both club & brand logo are at same place along with sponsor banner. On back of away jersey, "BARCA" name is written in capital letters in blue applications. Also, above this text, Spain's red & yellow stripes are there between red and blue colors.
Home kits of Barcelona are now released but there are no words about the release of Away kit. Away kits are expected to be launched in the month of July just after Brazil world cup. So, how much you like new kits of Barcelona?