Asian Cup 2015 Final: Australia 2 — South Korea 1 The Australian football team won their first ever Asian Cup football competition after defeating rivals South Korea in the final of 2015 AFC Asian Cup. And the Socceroos did it on their home soil after a long wait. goals from Luongo and Troisi helped the national side to lift their first title in the history of this competition. Once again, the hearts of South Koreans were broken in the final.
Australia vs South Korea Won 2015 Asian Cup 2015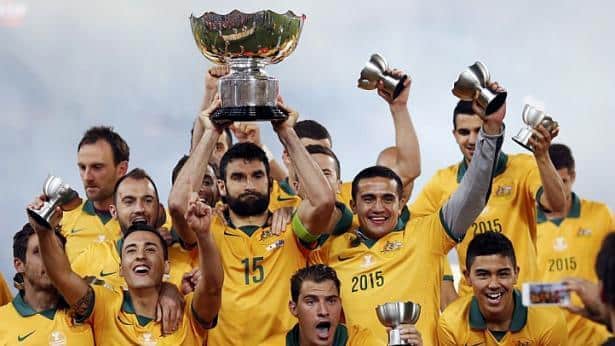 Socceroos has been crowned as the champions after a stunning victory over two times champions. James Troisi's extra time goal proved the difference as the home side delivered a performance a whole nation can be proud of. During the whole tournament, Australia scored maximum number of goals. This is the fourth defeat of Korean Republic in the final match of Asian Cup as they finished as runner-ups in 1972, 1980, 1988 and now in 2015. Last time, they won this championship in 1960. The triumph of Australia gave the Socceroos a first title since defecting from Oceania nine years ago while South Korea's anguish continued after failing to break a hoodoo in the tournament stretching back to 1960. Winning coach Ange Postecoglou said "I'm no good for words right now, I'm just super proud of everyone… I couldn't be happier. The courage the players showed tonight was enormous. I knew we would finish stronger. We pride ourselves on being fit… it was just a matter of taking our chances and we did it." Australia, runners-up to Japan in 2011, had been on the brink of victory after a stunning strike from Massimo Luongo on the stroke of half time, triggering wild celebrations from the crowd of approximate 76,000. Top Goal scorer: Ali Mabkhout [UAE, 5 goals] Most assists providers: Luongo Massimo [Australia, 4 assists], Omar Abdulrahman [UAE, 4 assists] United Arab Emirates finished at third spot with three wins, one draw and two losses. Iraq finished at fourth spot, Japan at fifth and Iran at sixth. After scoring total of fourteen goals throughout the competition, Australia became the highest goal scorer of the campaign.