New Home & away Kits of Spanish club Atletico Madrid are leaked. Here we are sharing some latest pictures of Atleti's new kit designed by American based sports giant Nike. In these pictures, there is no sponsor logo on front of the jersey as the contract of the club with Azerbaijan expires in 2014. So these pictures are without logo of Azerbaijan. The contract was signed for one and a half month & it comes to an end. Back on topic, have a look on new jersey of Atletico Madrid, home and away.
Atletico Madrid New 2014–15 Home Jersey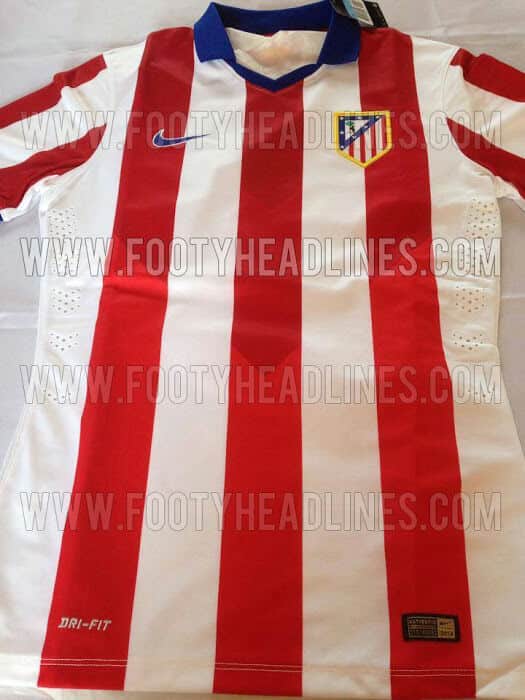 The all new home jersey of Atletico Madrid is featured with red & white minor changes. In last jersey, almost same colors were used with collar colors of red appearance. In this jersey, red colored collars are replaced with blue color & got some height also. There are three vertical stripes on front as well as on back of the t‑shirt.
Some changes are also made on sleeves. We have seen red colored plain sleeves which are converted into red stripes on sleeves. Logo of Atletico Madrid is designed on left chest with yellow boundaries. While, logo of kit supplier Nike is on right chest in blue appearance. On sides of jersey, some ventilation holes are provided for cooling & to increase the rate of sweat evaporation.
Shorts of Atletico Madrid 2014–15 home kits will be available in blue with white applications. There are now words about the price of these new kits of Atleti. But it is revealed that these kits will be launched in the month of July 2014 just after FIFA World Cup.
Atletico Madrid New 2014–15 Away Kit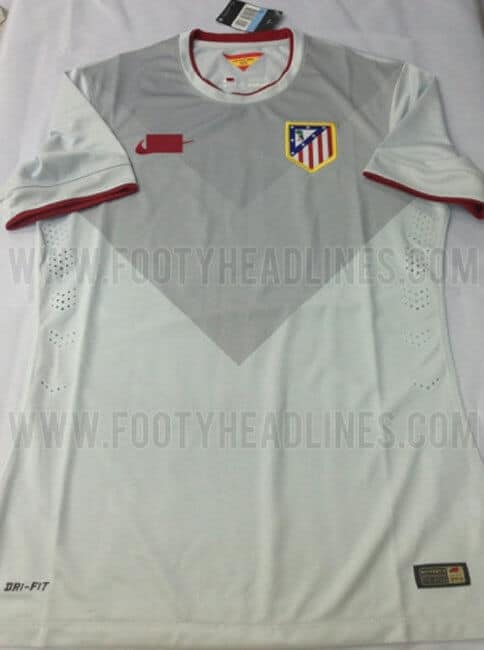 Away kit is the uniform on which Nike has made lots of experiments. Last season away jersey of Atletico Madrid was featured with black with yellow applications but now Nike have introduced a new layout of the jersey. The away jersey is mainly featured with white and red application.
Read also: Manchester City New 2014–15 Kits
2 wide v‑shaped stripes are designed on front of t‑shirt in grey color. No sponsor logo is available on front of jersey. The ventilation holes are also provided on away jersey of Atletico Madrid. A Spanish flag is also there on inner label inside the neckline of the new Atletico Madrid kit. Shorts will be available in grey with red colors. Away uniforms will be launched with home kit in July 2014.