The fixtures of football competition AFC Asian Cup 2015 is available in Australian time. Host nation have selected 5 cities to host this tournament. Australia will play the opening game against Kuwait on 9th of January 2015. Total of 16 teams have qualified for this competition across Asia. The winner of 2015 AFC Asian cup will automatically qualify for the Confederation Cup which will be held in 2017 in Russia. Given below is the schedule of Asian cup in ACT.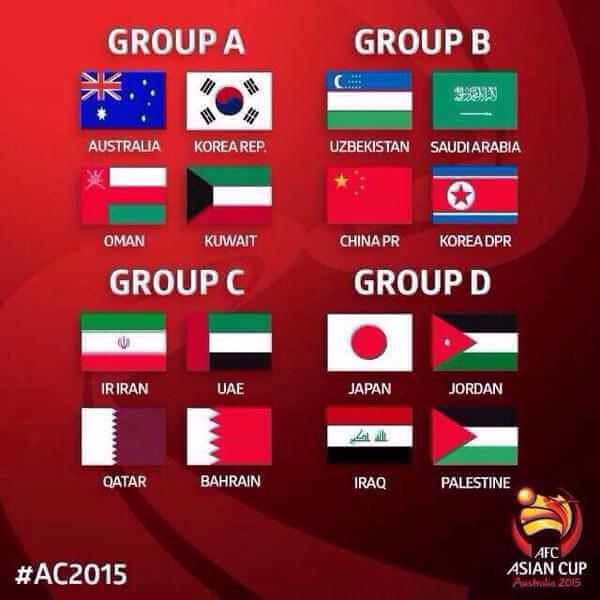 AFC Asian Cup 2015 Schedule in Australian Time
Match
Date
Time
Australia vs Kuwait

09 Jan

8:00pm

Korea Republic vs Oman

10 Jan

4:00pm

Kuwait vs Korea Republic

13 Jan

6:00pm

Oman vs Australia

13 Jan

8:00pm

Australia vs Korea Republic

17 Jan

7:00pm

Oman vs Kuwait

17 Jan

8:00pm

GROUP B

Uzbekistan vs DPR Korea

10 Jan

6:00pm

Saudi Arabia vs China PR

10 Jan

7:00pm

DPR Korea vs Saudi Arabia

14 Jan

6:00pm

China PR vs Uzbekistan

14 Jan

7:00pm

Uzbekistan vs Saudi Arabia

18 Jan

8:00pm

China PR vs DPR Korea

18 Jan

8:00pm

GROUP C

UAE vs Qatar

11 Jan

6:00pm

Iran vs Bahrain

11 Jan

8:00pm

Bahrain vs UAE

15 Jan

6:00pm

Qatar vs Iran

15 Jan

8:00pm

Iran vs UAE

19 Jan

7:00pm

Qatar vs Bahrain

19 Jan

8:00pm

GROUP D

Japan vs Palestine

12 Jan

6:00pm

Jordan vs Iraq

12 Jan

7:00pm

Palestine vs Jordan

16Jan

6:00pm

Iraq vs Japan

16 Jan

7:00pm

Japan vs Jordan

20 Jan

8:00pm

Iraq vs Palestine

20 Jan

8:00pm
There will be an opening ceremony on 9th January at the Melbourne Rectangular Stadium after which match between Australia vs Kuwait will be played. The opening ceremony will be produced by a consortium of sport event specialists Twenty3 Sports + Entertainment and creative technology firm Spinifex Group.
The group stage games will be played from 9 January to 20 January. There will be one day of rest and quarter finals will be played form 22 Jan.
Quarter finals: 22 to 23 Jan
Semi finals: 26 and 27 Jan
Match for third place: 30 Jan
The final match of 2015 AFC Asian Cup will be played on 31st Jan at Stadium Australia.