Arsenal Vs Crystal Palace Highlights Video, Result, All Goals: Arsenal were in Premier League actions against Crystal Palace on Sunday and once again Arsenal suffered another disappointing result in the 33rd week of the Premier League against Crystal Palace as a Yannick Bolasie snuck a shot inside Arsenal goal post to equalise Sanchez opening header. If you had missed the moment, watch out the Arsenal vs Crystal Palace all goals highlights video.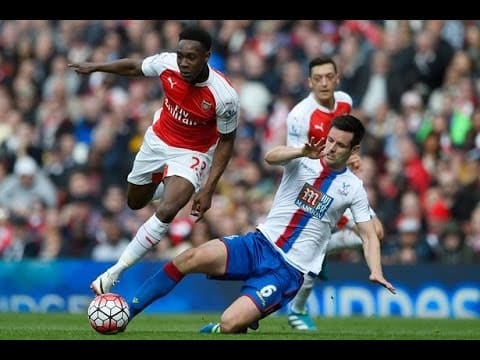 Arsenal Vs Crystal Palace All Goals Highlights Video
Sanchez who scored his 10th goal of this season led up Arsenal in stoppage time with 1–0 but in the ending time Yannick Bolasie struck a blow to Arsenal's top three hopes with a late equaliser. Crystal Palace managed to draw the game with 1–1 at Emirates Stadium. Watch out Arsenal vs Crystal Palace all goals highlights video:-
Arsenal Vs Crystal Palace Result
Sanchez made no mistake in stoppage time of the first time as he held off Souare to loop a header over Hennessey from Welbeck's chipped pass. He scored his 10th league goal of the season.
The Gunners had a number of half-chances when the score stood at 1–0 but it was Palace, though, who finished the stronger at the end. Palace snatched a point, which kept Arsenal from overtaking Manchester City in the Premier League table. Now, the Gunners are level with Manuel Pellegrini's men and four points clear of Manchester United in the race for UEFA Champions League.
With nine minutes to play, the winger cut in from the left and beat Petr Cech with a powerful low shot from 20 yards out. Bolasie's strike was Palace's best sight of goal in the 81th minute as Arsenal dominated possession.
Arsenal now on the 4th position with 60 points in 33 games while Palace are on the 16th position with 39 points in 34 games. Now Arsenal will host West Brom in the upcoming week while Palace will go to Old Trafford to play against Man U.