We have seen desperation of these two Premier League club in signing Spanish footballers. Once again, the gunners and City have shown interest in signing one of the best Real Madrid's midfielder for huge amount. The current European champions will listen to offers for Isco with an eye on a potential move for Paul Pogba during summer transfer window.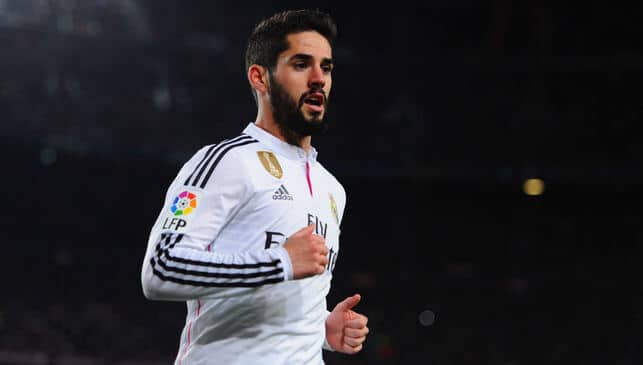 Isco was brought by Jose Mourinho from Malaga and turned out to be one of the most important player for Real Madrid. According to Daily Mirror, a bid of 35 million pounds could convince Los Blancos to sell the 22 year old Spanish midfielder.
Isco has shone for Los Blancos this term, but Real have shown in recent seasons that they are not averse to losing top players if it helps with restructuring the team. If the Champions League holders are open to offers, the paper reports that both clubs are expected to make a move.
After injuries confirmation of Gareth Bale and Luka Modric, Isco is most likely to start against Atletico Madrid in second leg of quarter final.He has been productive for most of the season, has incredible potential and is versatile enough to help out in every attacking midfield slot.
However a fan didn't want Real Madrid let Isco to leave. He tweeted on twitter
Juanmi: "I'd never leave Isco on the bench – even on PlayStation" http://t.co/W3a6N3boG2 pic.twitter.com/GWd6TzPr5z — AS English (@English_AS) April 17, 2015
He played full 90 minutes in Real Madrid 3–1 win against Malaga but didn't scored and provided any assist. His first team chances could be boosted by an injury to Luka Modric, with the Croatian limping off during the victory amid feats he could be out for up to six weeks.
Do you think Isco really need to leave Real Madrid?