Argentina & Belgium football teams represents Asociacion del Futbol Argentino & Royal Belgian football association respectively. You will get the complete record of Argentina vs Belgium head to head in football history. ARG are currently at 5th spot in FIFA men ranking, whereas BEL are at 11th spot. Lionel Messi is the current captain of the Whites & Sky Blues & Vincent Kompany is current captain of the Red Devils. Check out stats & records comparison of both teams below.
Argentina vs Belgium Head to Head & Records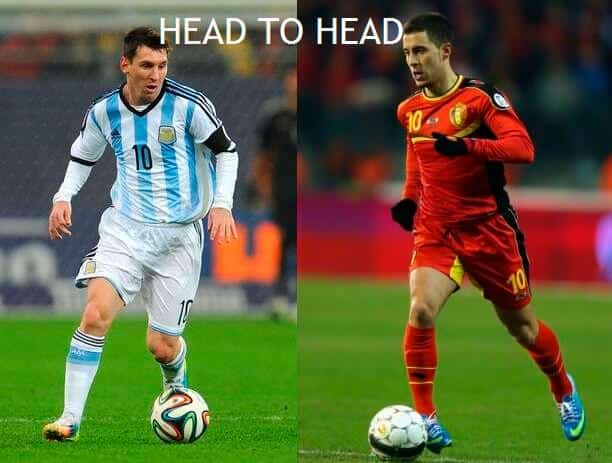 STATS
ARGENTINA
BELGIUM
Matches Played

4

4

Wins

3

1

Loss

1

3

Draws

0

0

Goals Scored

10

4

RECORDS

World Cup Apps.

15

12

World Cup Titles

2

0

FIFA Rank

5

11

Highest FIFA Rank

1 [July 2007]

5 [October 2013]

Biggest win

vs Ecuador [12–0]

vs Zambia [9–0]

Top Goal Scorer

Gabriel Batistuta [56]

Bernard Voorhoof
So far, both teams have played just 4 games against each other. The Whiles & Sky Blues have won 3 games & red devils have won 1 game in last 4 meetings. In those 4 games, La Albiceleste scored 10 goals, while Les Diables Rouges netted 4 times. The whites & sky blues played their first international game against Uruguay on 16th of May 1901 which was a close encounter & they won that match by 3–2.
Red Devils made first international appearance in football history against France on 1st of May 1904. Their first international match ended by 3–3. Belgium have played FIFA World Cup 12 times & their best performance is 4th place which they achieved in 1986.
Facts About Argentina & Belgium
La Albiceleste played final match of first ever World Cup in 1930, Uruguay. They have played final match of FIFA World Cup 4 times out of which they won 2 world cup titles in 1978 & 1986.
The FIFA World Cup of 1986 which was organized in Mexico was the best world cup of Belgium. They finished at 4th position after playing 7 games. They scored 12 goals, but conceded 15 goals in that competition.
Fernand Nisot was the youngest player in the senior team who joined his national team when he was 16 years old. There are 2 players at the top of the list of scoring maximum goals for Belgium. Paul Van Himst & Bernard Voorhoof have scored 30 goals in international games.
Argentina's highest rank on the FIFA World Rankings was introduced in March 2007. Same year, they were at top position in Elo ranking in July 2007.