The leading German sports brand Adidas has launched new football Kit of Argentina for FIFA World Cup 2014. Home & away kits of Argentina are launched by Adidas with new designs colors & great combinations of colors. On 13 February, 2014 Adidas unveiled new uniform of Argentina which is the main source of attraction of football fans. Check out the wallpapers of new kits of Argentina which are release for Brazil summer world cup.
New Home Kit of Argentina Wallpapers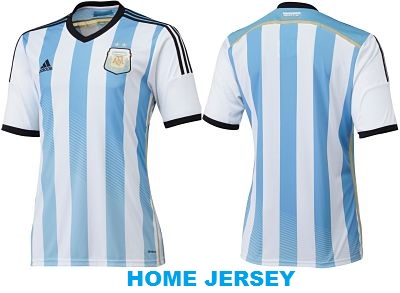 Shirt: In design of home jersey of Argentina, Sky Blue as well as white color combinations is selected as main colors. At front & at the back of shirt, wide stripes of sky blue & white colored are there which are identical colors of this football team. On shoulders, Adidas three stripes are there which are in black colors starting from neck to center of arm. At the end of arms, the rounds are ended with black appearance. On left chest, there is logo of Argentina national football team in golden color. The boundaries of logo are in made with black applications. On left chest, Adidas 3 stripes logo is marked in black appearance. Some changes are also designed in this new shirt. Like on the collar of shirt, name of national team "ARGENTINO" is written in white appearance on blue background. There is also a golden color single stripe at back just below shoulders.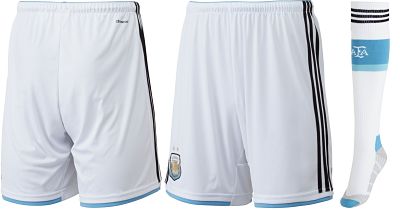 Shorts: Almost white color is used for manufacture of shorts. On sides, 3 strips of Adidas are there which starts from waist to the end of shorts. The round ends of shorts are in sky blue appearance. At the bottom of shorts, logo of national is also designed. Socks: At the top of socks, 3 Adidas stripes are there. Thereafter white colored logo is designed on blue background. Feet is in grey color with combination of sky blue.
Away Kit of Argentina for 2014 World Cup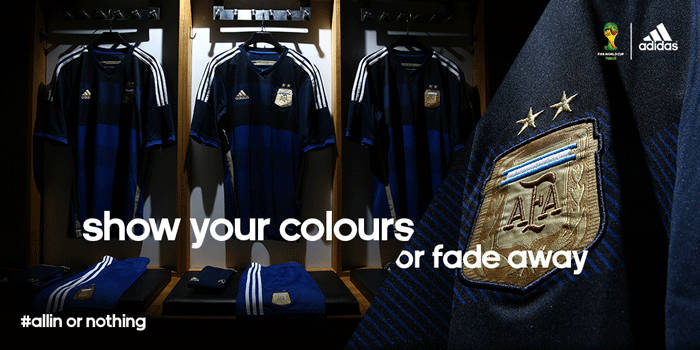 The away kit of the team is in dark blue color. Actually 2 blue colors are used for its manufacture. At the top dark blue is there & then light appearance going down from chest to waist. On away shirt, golden logo of national team is marked at left chest. Same color Adidas logo is there at right chest.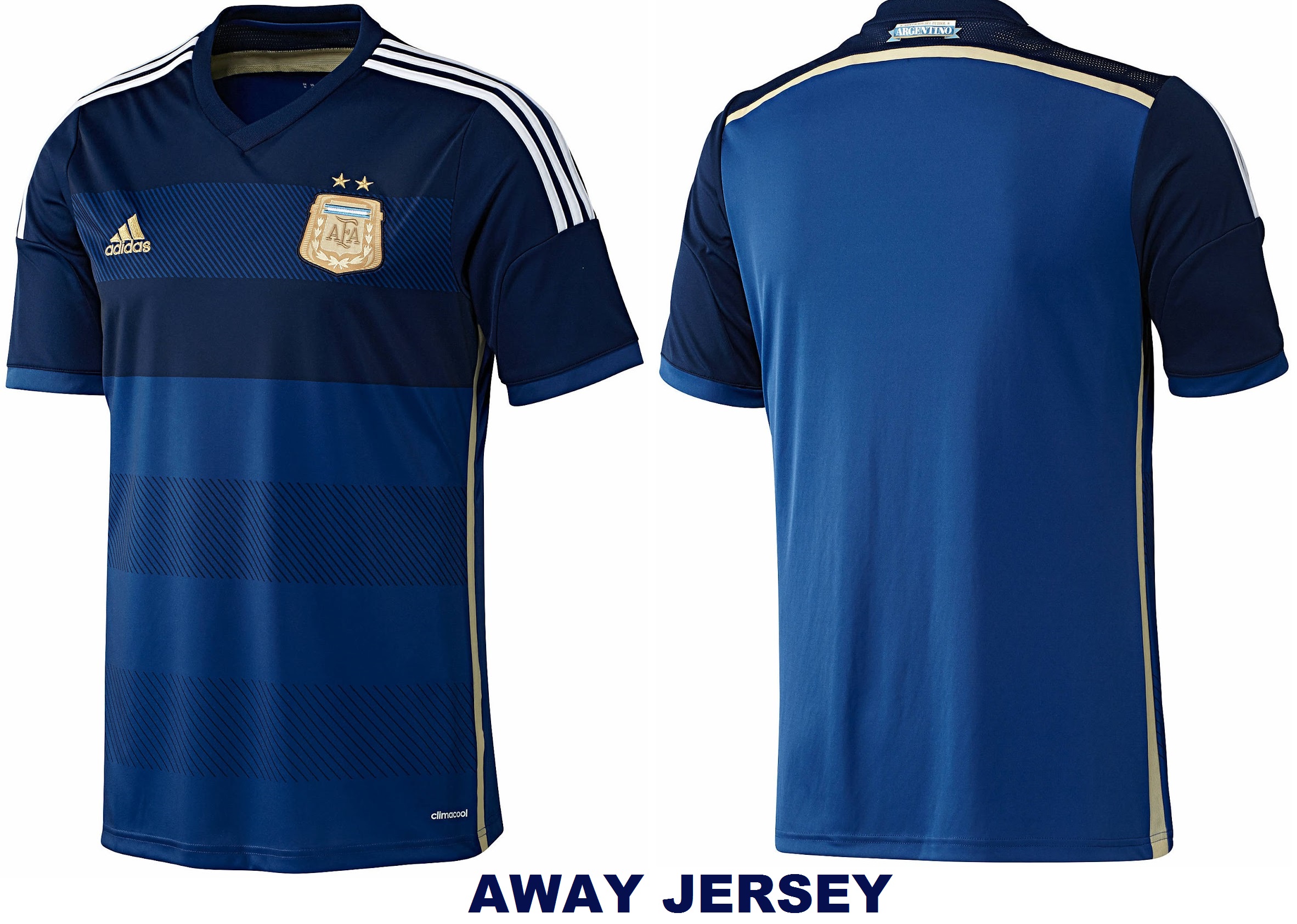 On this shirt, Adidas 3 stripes are in white appearance from shoulder to the center of arms. The rounds of arms are ended in light blue appearance. Wide horizontal stripes are designed by the engineers of this away kit which are identical with home jersey. Shorts & socks are also designed with combination of light & dark blue. Blue as main color is used for designing shorts. White colored stripes starting from waist to bottom are appeared. End of away shorts are in black appearance.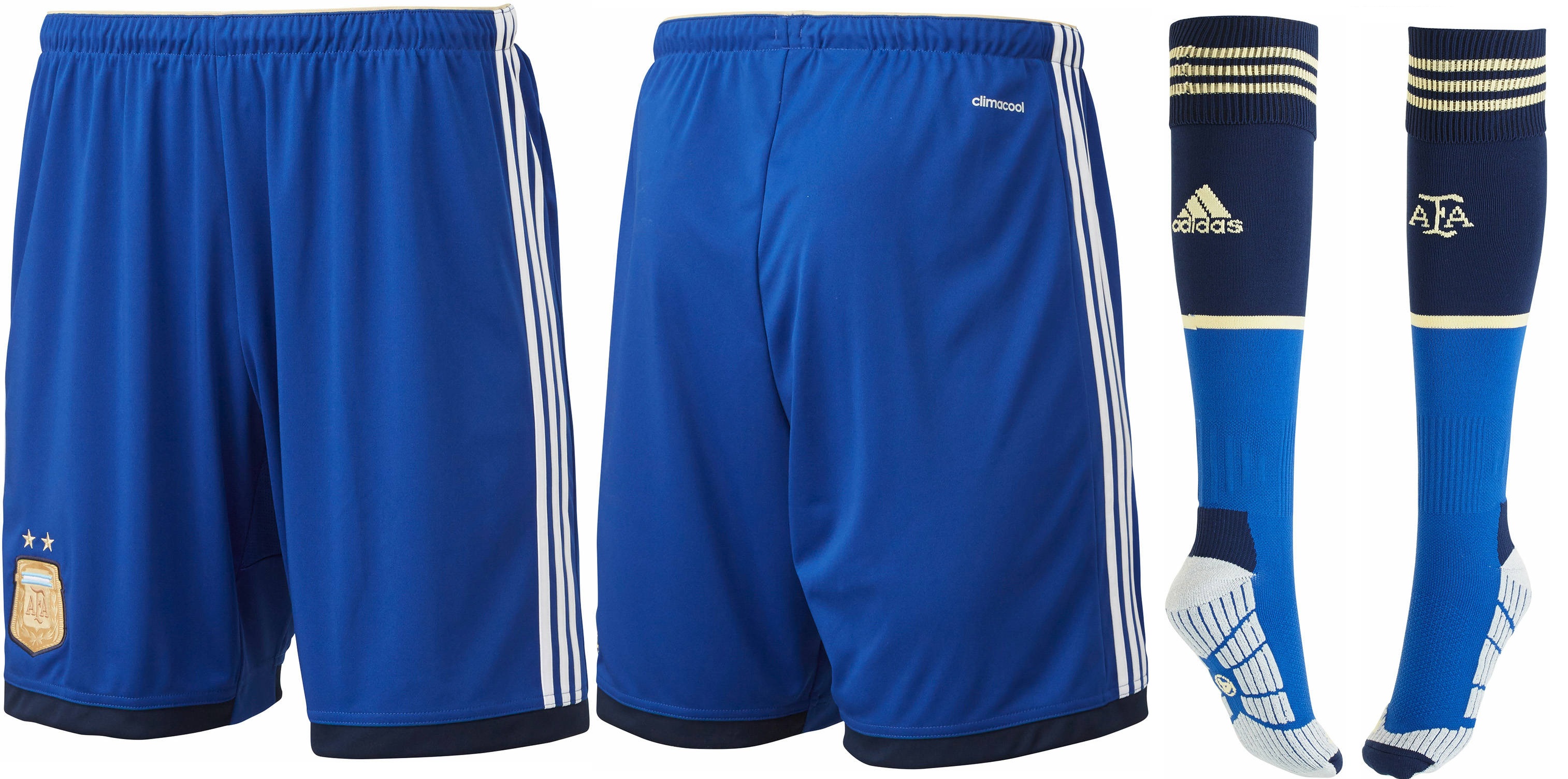 Four colors are selected for away socks. Starting from top golden colored three strips are there & then AFA [Argentina Football Association] & Adidas logo in golden appearance. Blue color starts from center to bottom with some white appearance at the bottom. So enjoy all these wallpapers of home & away. The Argentine players will wear these kits in their upcoming games of Summer FIFA World Cup which will begin from 12 June.