After beating Paraguay with a goal score of 5–2, Argentina has qualified for the FIFA world cup 2014. For Argentina, Captain Lionel Messi scored 2 goals and the final result was 5–2. After a speedy recovery from injury Messi assists his team to make this match easy for qualification. In both half, Messi scored single goal in each.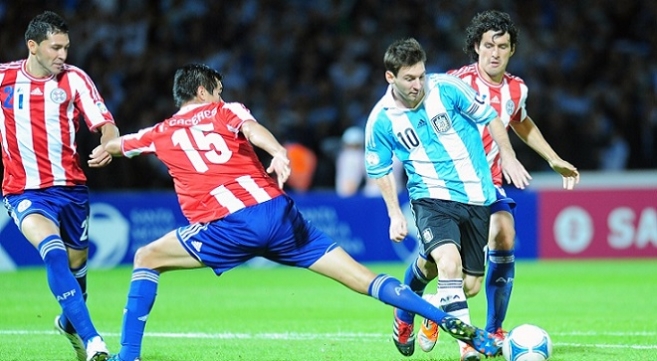 How Argentina Qualified for World Cup 2014
In this match, 4 big players of Argentina did not played. But the match was still under favor of this this team. In 12th min. of 1st half Messi got penalty shoot & he make no mistake. Then Argentina was leading the match. But after 6 minutes, Jose Nunez scored first goal for Paraguay and scores were level.
Argentina then made strong attacking power & in 32nd minute, the striker of Manchester City Sergio Aguero put the ball into net. Then again this team was leading. After the completion of first half, Argentina was leading with 2–1.
DONT MISS: FIFA World Cup 2014 qualified teams
From Real Madrid, Angel de Maria came into attraction when he scored goal in 50th min of second half. After some time, Messi squad again got penalty & result was same as was before. Penalty was taken by the number 1 Lionel. Then the score was 4–1.
When the match was about to end, the midfielder from Newell's Old Boys, Maxi Rodriguez put the ball into net team scored it last goal. The match was fully under control of Messi team & Paraguay made so many fouls. Their defense was easily split and team did not find any problem to beat them.
Goal scorers of this match
| | | | |
| --- | --- | --- | --- |
| Argentina | Minute | Paraguay | Minute |
| Lionel Messi (Penalty) | 12 | Jose Nunez | 17 |
| Sergio Aguero | 32 | Roque Santa Cruz | 86 |
| Angel de Maria | 50 | | |
| Lionel Messi (Penalty) | 53 | | |
| Maxi Rodriguez | 90 | | |