The Argentina Football team squad is playing under the governance of Argentine Football Association which is abbreviated as AFA. The list of probable team squad for the FIFA World Cup 2014 is declared & the players are ready for the world battle once again. The upcoming tournament is beginning from 12 June in Rio de Janerio, Brazil. Without any trouble, the national team qualified for this tournament for sixteenth time. The played first world cup in the year of 1930 which was organized in Uruguay. Check the list of team players of Argentina National Football team.
Team Squad of Argentina For 2014 World Cup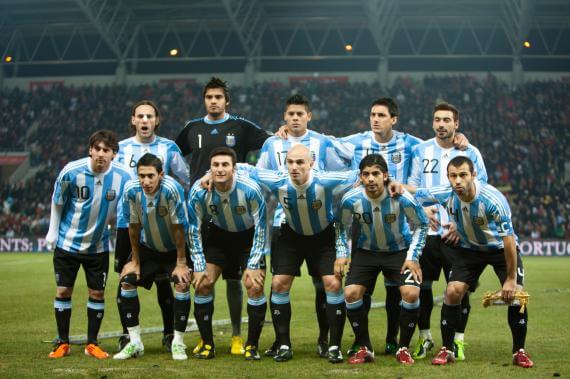 The Barcelona striker Lionel Messi will be the captain of the national once again & will join some other stars like Angel di Maria from Real Madrid & Sergio Aguero from Manchester City. The current FIFA ranking of this national team is 6 because they dropped some points in international friendlies. Given below is the list of current team squad of Argentina Football team.
Number
Player Name
Club
GOALKEEPERS
1
Sergio Romero
Monaco
21
Mariano Andujar
Catania
12
Agustin Oiron
Boca Juniors

DEFENDERS

4
Pablo Zabaleta
Manchester City
17
Federico Fernandez
Napoli
13
Marcos Rojo
Sporting Lisbon
2
Ezequiel Garay
Benfica
15
Nicolas Otamendi
Atletico Minerio
3
Hugo Campagnaro
Internazionale
23
Jose Maria
Monterrey
24
Lisandro Ezeduiel Lopez
Getafe
26
Gino Peruzzi
Catania
MIDFIELDERS
14
Javier Mascherano
Barcelona
11
Maxi Rodriguez
Newell's Old Boys
5
Fernando Gago
Boca Juniors
7
Angel di Maria
Real Madrid
19
Ever Banega
Newell's Old Boys
25
Jose Ernesto Sosa
Atletico Madrid
6
Lucas Biglia
Lazio
8
Augusto Fernandez
Celta Vigo
16
Ricardo Alvarez
Internazionale
FORWARDS
10
Lionel Messi [Captain]
Barcelona
20
Sergio Aguero
Manchester City
9
Gonzalo Higuain
Napoli
22
Ezequiel Lavezzi
Paris Saint Germain
18
Rodrigo Palacio
Internazionale
Franco di Santo
Werder Bremen
How Argentina Qualified For World Cup 2014?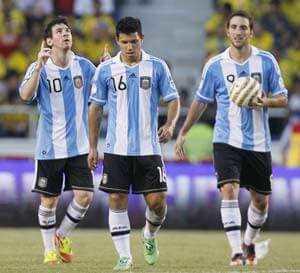 Argentina qualified for this world cup after playing 16 games total in group stage. Out of these 16 games, they won 9 matches with loss of 2 games & the remaining 5 games were draw. They faced loss in 2 matches against Venezuela & Uruguay in second & last match respectively. They played first world cup qualifier match against Chile which they won comfortably with 4–1. Later they were defeated by Venezuela by 0–1 at Puerto la Cruz. After making victory over Peru by 3–1, they booked ticket of Brazil. World Cup Qualifier Played: 16, Won: 9, Lost: 2, Draws: 5, Top Goal Scorer: Lionel Messi In group stage of 2014 World Cup, Argentina will play matches against Bosnia and Herzegovina, Iran & Nigeria. Their first match is scheduled against Bosnia and Herzegovina on 15 June 2014 in Rio de Janerio. See Also: Portugal Team Squad
Facts & Figures of Argentina
Leandro Cufre was given a red card after the end of quarter final game with Germany for his part in the brawl after the match in FIFA World Cup 2006.
Marcelo Trobbiani played only 2 minutes in the whole world cup tournament of 1986. He came on in the eighty eighth minute against West Germany in final match & set up a new record of shortest play.
Argentina & one more team i.e. Uruguay have record of playing maximum number of games against each other in football history. There are 198 meeting have been recorded between these 2 teams so far.
Top Goal Scorers of Argentina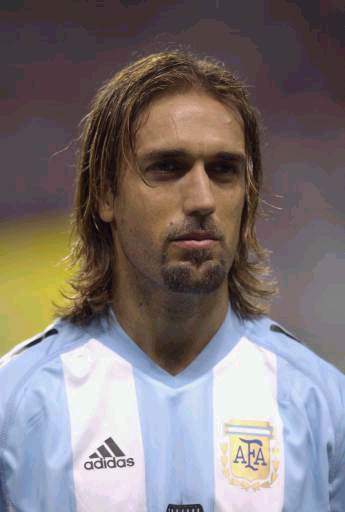 Gabriel Batistuta is the highest goal scorer of Argentina who scored 56 goals in his football career after playing 78 games total. The captain of the team Lionel Messi is at second spot in the list of Argentina top goal scorers. Check out the list below.
| | | | |
| --- | --- | --- | --- |
| No. | Player Name | Goals | Appearances |
| 1 | Gabriel Batistuta | 56 | 78 |
| 2 | Lionel Messi | 37 | 84 |
| 3 | Hernan Crespo | 5 | 64 |
| 4 | Diego Maradona | 34 | 91 |
| 5 | Luis Artime | 24 | 25 |
| 6 | Leopoldo Luque Daniel Passarella | 22 22 | 45 70 |
| 7 | Herminio Masantonio Jose Sanfilippo Gonzalo Higuain Sergio Aguero | 21 21 21 21 | 19 29 36 50 |
World Cup Performances of Argentina
For the first time, they played FIFA World Cup of 1930 which was the first world tournament of football. They played whole tournament very well but were not able to win the title & were defeated by the host nation Uruguay in the final match. That was the only loss in that world cup out of 5 games played. So far, the Whites & Sky Blues qualified for 15 times in FIFA World Cup & won it 2 times [1978 & 1986]. Lionel Messi is the current captain of this national football team and Alejandro Sabella is the head coach of this team. Javier Zanetti played maximum number of games for Argentina [145]. Their home stadium is El Monumental Mario Alberto Kempes which is known for having capacity of 46,083.