The complete team squad of Argentina Football Team is announced & the football association has also announced the captain of Argentina national team. This team is considered as the most strongest attacking team of 2014 FIFA World Cup as it includes world's best strikers. Here we are revealing the captain of this team who is selected for upcoming summer world cup.
Argentina Team Captain For 2014 World Cup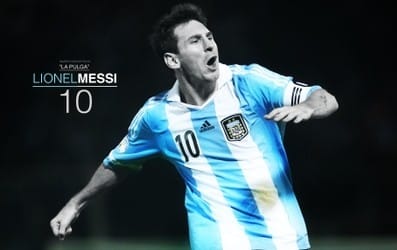 The Barcelona star striker Lionel Messi is named as the captain of Argentina football team. He will hold the charge throughout the competition. It is well known fact that the player was offered to play for Spain National football team, but he rejected that offer. Before Messi, Mascherano was the captain of the team, but Leo Messi will lead the team. The Argentine striker will play his third world cup competition in Brazil. So far, Lionel Messi has played 83 games for his national team. In these games, he scored 37 goals. Also, he was top scorer of 2014 FIFA World Cup qualification games. His team will play first match of 2014 FIFA World cup against Bosnia and Herzegovina on 15th of June at Estadio do Maracana. Argentina second and third matches are against Iran and Nigeria on 21st & 25th June respectively.
Records of Lionel Messi
Lionel Messi is the only footballer who won 4 times FIFA Ballon D'or award consecutively. He won all these Ballon D' awards with his current club Barcelona.

He is the first football player to score against all clubs in a league consecutively.

Messi is the first player who is known for scoring maximum number of goals in FIFA Club World Cup [4].

The first player to score 91 goals in a single year calender. His name is written in Guinness World Records for this record.

First player to win European Golden Shoe three times. All three golden boots were won in Spanish league La Liga.

Lionel Messi also holds record of scoring 50 goals in a single season of la Liga.

Most goals scored in El Clasico [21] & 2 hat-tricks against Real Madrid.