Argentina new 2015 Copa America Kits for home and away matches unveiled by Adidas. For the South American main football competition, Adidas have revealed the new home and away kits for Argentina that will be used throughout the tournament. The vice champions of 2014 FIFA World Cup will be seen in light blue and white jersey. Here we are providing you the home as well as the away kits of Argentina for Copa America 2015. Check out the new kits of this national team with pictures below.
Argentina 2015 Copa America Home Kits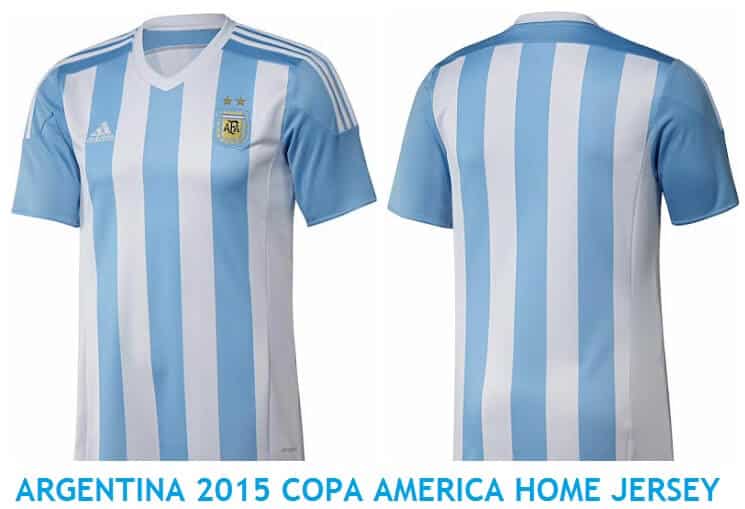 In the month of December, we showed you the leaked images of Argentina's 2015 Copa America kits. Now, it's time to take a close look on unveiled kits of the sky blues. New 2015 Home jersey of Argentina features the traditional colors light blue and white. Just like last home jersey, vertical stripes are deisnged on front and on the back of it. We have seen black colored stripes on home jersey in last World Cup which are now replaced by white stripes. V‑collar is designed in v‑shape in white appearance. Vertical stripes are in light blue whereas the other stripes are in white look. Team logo is designed in golden appearance on left side. The trademark logo of Adidas is on right chest in white. Adidas three stripes are on shoulders with white application. On the back of jersey, player's name and number is there. Shorts are also in white and light blue appearance. On the sides of shorts, three light blue stripes are marked on white background. Adidas also unveiled Colombia 2015 Copa America kits.
Argentina 2015 Copa America Away Jersey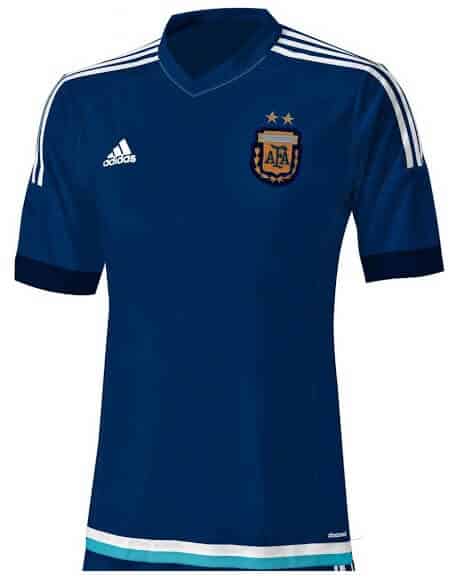 On the away jersey of Argentina, vertical stripes are removed. Navy color is used as the main appearance on which some white and dark blue applications are used very well. Sleeves in dark Navy, while the v‑collar makes this away jersey of vice champions simple yet impressive. These new kits of Argentina are expected to be used until 2017. Adidas launched these new kits under #therewillbehaters series on second Feb 2015. Argentina will play their first match against Paraguay on 13th June 2015 at Estadio la Portada, La Serena, Chile. Their other two rivals in group stage are Uruguay and Jamaica. Do you like the new Argentina 2015 Copa America Kits?