After the biggest win of this season, thrashing Granada by 9–1, the Italian manager eyes for more victories. No La Liga team have scored 9 goals since 1979, but the Real Madrid have done what he is known for. It was the best performance of Real Madrid this year after last El Clasico defeat at Camp Nou. Though they earned three points, but Carlo Ancelotti is still not pleased and wants his team to continue this run in all competitions. Read what Ancelotti said after 9–1 win over Granada.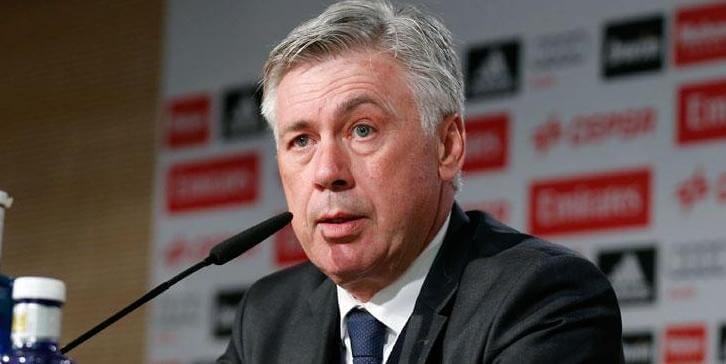 Out of last 4 games in all competition, Ancelotti's squad have lost three of them. He is open about wishing he could spread those goals across their matches in which they had struggled. Ancelotti said he would swap 9–1 result for nine 1–0 victories. He told to reporters
"Of course I would change this 9–1 win for nine matches in which we won 1–0 in a heartbeat. Players understand our goals and the end of the season is very close now."
"The players were very good today; they were quick thinking and scored plenty of goals. James Rodriguez in particular was very good. It was hard to notice that he had spent two months out injured. He played with quality and intensity."
Not only James Rodriguez, Carlo Ancelotti also praised the Ballon D'or winner Cristiano Ronaldo. For the first time in his career, the Real Madrid forward netted five times in one game. More interesting is that he scored all goals without penalty. About his performance vs Granada Ancelotti said
"Cristiano is improving with the team. It being the first time he has scored five goals in a single game boost for all of us. Cristiano Ronaldo scoring five goals is good for him, for the team and for everyone."
"Now that the team is fresh it makes no sense to rotate players like Cristiano. Rest for rest's sake makes no sense. Players will only be sidelined if they need the breather."
Related: Download Ronaldo 5 goals vs Granada video
Los Blancos are still at second spot with 67 points and the Catalans are still enjoying the first position after 29 games. The European Champions will now face Rayo Vallecano on this Wednesday.