The All India Football Federation holds the authority of Football at international level in India. The Organization controls Indian National Football team. All football clubs and the I‑League are controlled by this Federation. You will find details about the President of this Organization and about General bodies of AIFF. Shri Praful Patel is the President of All India Football Federation. He is not only known as a president but also as a sportsperson as well as Businessman.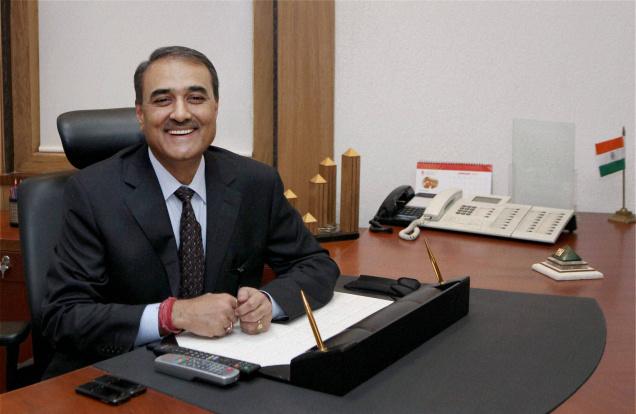 AIFF President
Name

Sh. Praful Patel

Date of Birth

17-02-1957

Nationality

Indian

Birth Place

Kolkata

Qualification

Bachelor of Commerce

Occupation

President of AIFF and Businessman

Religion

Hindu
On 17 Feb, 1957, Shri Praful M Patel was born in Indian city Kolkata. The city is also known for football kingdom of India. World's 2nd largest Football stadium which is Salt Lake Stadium is also at here. He completed his Education after getting Bachelor degree in Commerce. He has the responsibility of President. By Profession he is known as Social worker as well as poitical worker. He is also a sportsperson & Sports Administrator. Some of his known people called him as an industrialist. He was the member of Indian Lok Sabha 3 times (1991–96, 1996–97, 199899). His father was Late Shri Manoharbhai Patel and mother was Late Smt. Shantaben Patel. Praful Patel was appointed as a member legal committee in Football Internationale de Football Association (FIFA). He is called as a man of mulch-personality.
General Bodies of AIFF
General Provision: (1) The Head office of All India Football federation is in Dwarka, New Delhi. (2) There is no limit of time period for this organization. i.e. its time period is unlimited. (3) AIFF is Registered under the Act of Registration Act, 1860. It is a National Association which is registered with Registrar of Societies. (4) It has no link between political, religion, ethnic, racial and linguistic discrimination. (5) AIFF is Registered member of FIFA, AFC, Olympic Association. Objectives: (1) The main objective of the organization is to improve & promote football all over the India. AIFF is doing this job mainly for Indian Youth by Youth development programmes in both rural and urban areas. (2) To draw up regulation & provisions & ensure administration (3) To control each & every football association by taking steps protect abomination of Statues, follow the decision of FIFA. (4) To Organize & control football competitions during the whole year. Members of AIFF General Body (1) Single Association of football in every State of India defined by Constitution of india. (2) Women's Committee. (3) Boards of Services Sports Control and Boards of railways promotion. Organization Legislative Body Supreme General Body Executive Body Executive Committee Administrative Body General Secretariat Adhoc and Standing committees advice & help Executives bodies in duties Judicial Body Disciplinary Committee, Appeals Committee, players status committee