Adidas Primeknit Prototype Green Football Boots Leaked: Introducing the new football boots of Adidas which are quite different in physical appearance. The all new Adidas Primeknit Prototype soccer cleats are leaked and are now available for the first look. We are going to present you solar green soccer cleats just before the actual release. Take a look on the images, photos and read some leaked info about these new soccer shoes.
Adidas Primeknit Prototype Green Football Boots Leaked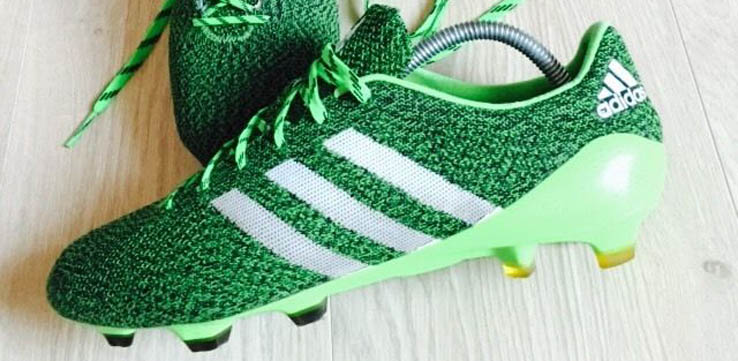 We have seen the first ever knitted football boots in the month of February last year. Barcelona's forward worn those cleats. Only 150 pairs were available globally and received good reviews from the customers. After looking on good response, Adidas is going to unveil the new Primeknit Prototype football boots in few weeks.
Read also: Top 10 Football YouTube Channels
In this new green prototype soccer cleats, you will see a great combination of various green shades with white applications. It is creating a stunning design. To provide the better ball control, Adidas has made unique grassy surface on its upper part which is looking pretty cool also.
Read also: Adidas Ace 2015 black yellow football boots
On the sides of boots, there are inclined Adidas stripes in white appearance. On its sole, eleven spikes are provided for control on speed. White colored Adidas trademark logo is also printed on tongue of shoe.
If you remember, Adidas unveiled their 2nd Gen of Primeknit boots on 20th of April 2014. The first generation of was met with skepticism by most customers for its stiff upper, the Adidas Primeknit 2.0 soccer boots finally introduced a knitted Adidas boot.
So these are the green colored Adidas Primeknitted Prototype football boots of Adidas. Have your say about the new cleats in the comment box.