All new Adidas Adizero gold and black football boots are launched by the German Sports kit brand. Four time FIFA Ballon D'or winner Lionel Messi will be seen in gold Adizero cleats in upcoming matches. If you are Messi fan, then you should have a look on these new shoes which are specially designed for Barcelona forward. Images are also available below.
Adidas Adizero Gold 2014–15 Boots for Messi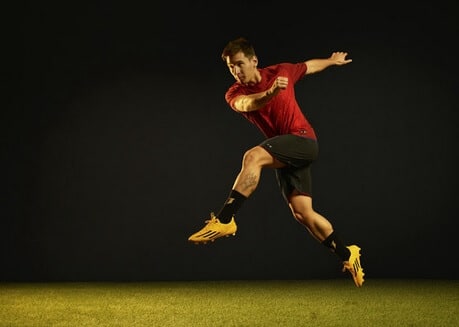 These are designed with a slogan "Made of Greatness". As the name describes, new boots are featured with combination of gold color along with black applications on it. Adizero is one of the most popular series of Adidas because of its comfort and simplicity.
On its synthetic upper portion, a text "Mess Campaign [We are Team Messi]" is written. Name of boot series is also there on its tongue. On its sides, 3 stripes of Adidas are designed in black appearance starting from center to front end. 3 stripes logo of Messi is also there on its heel in black appearance.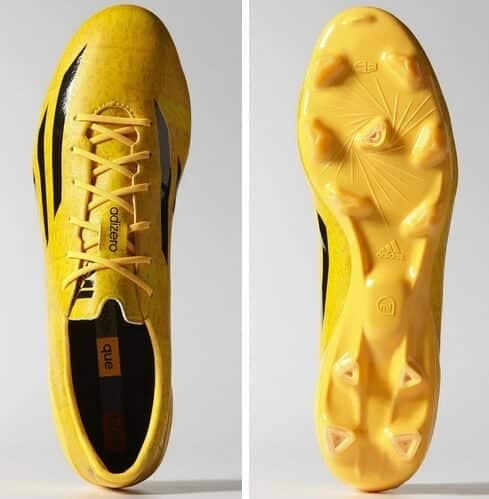 Another text "mas que un botin [More than a boot]" is written on inner sole of new golden boots of Lionel Messi. This text is the modified version of famous FC Barcelona slogan Mes Que un club which means More than a club.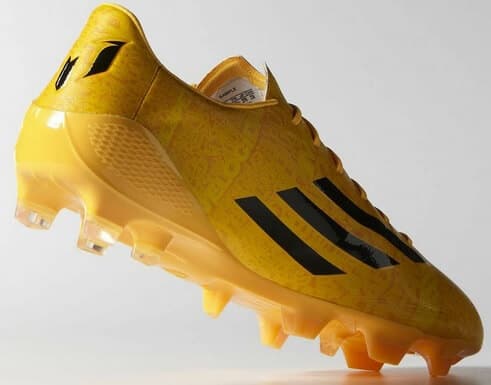 Bottom sole is provided with tough synthetic plastic and the spikes are ended with crystal appearance. These cleats are first launch for Messi after 2014 FIFA World Cup. he will wear these boots in La Liga 2014–15 season from the month of August 2014. This means Messi will use Gold colored Adizero boots against Elche on first match day.