The new football boots of Lionel Messi by Adidas are leaked. Here we got some leaked photos of these new cleats of Barcelona's super star Lionel Messi. The name of these new boots are Adidas Adizero Gold Black. Adidas will launch these new shoes in the month of May 2014 just before world cup. This means Messi can use Adidas new shoes in upcoming world cup. Have a look on new boots made by the German brand Adidas.
Adidas New Gold White Boots for Lionel Messi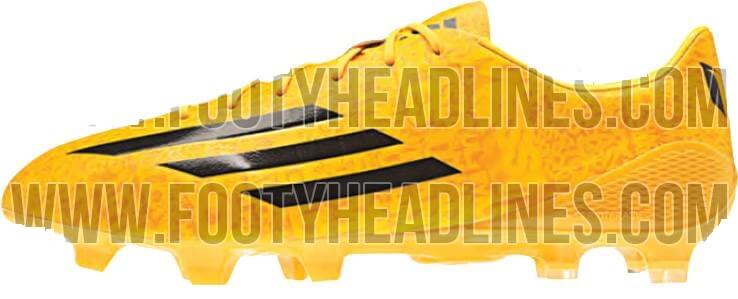 The 4 times Ballon D'or winner consecutively might be appear wearing new football boots which are Adidas Adizero gold black. it is specially designed with an advanced technology & a unique design. The synthetic upper is designed specially for light weight & maximum speed along with some text written on it i.e. Somos Team Messi campaign which means We are Team Messi. Whole appearance of these are made with gold color including its inner sole as well as its out sole. The trademark of Lionel Messi is at same position i.e. at the back of boot in black color. 3 stripes for which Adidas is known are also there in black applications on same position as that we saw on past boots launched by Adidas. Spikes are also in golden appearance. Tongue of shoes are made with black & the laces are made in large length. Although the all new boots are not launched, but release dates of these are revealed. There are no words about the price. For that you have to wait a little bit. Adidas will launched the all new Adidas Adizero Gold Black in May just a month before 2014 FIFA World Cup which is beginning from 12 June 2014.