The leading sports kit supplier Adidas have launched the all new Adidas Adizero F50 Hunt White Green Boots. The new football boots glows in dark as there is special green colored radium is used on heel of the shoes. These are the part of Adidas Hunt Pack of 2014–15. Have a deep look on these latest arrivals of Adidas of hunt pack.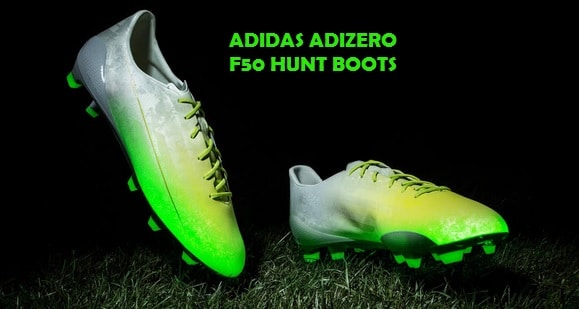 Adidas Adizero F50 Hunt White Green Boots
The all new hunt boots of Adidas are designed with white as background color on which some application of yellow are marked in predator way. The new boot features a light green and white color upper part and a white outsole. Its laces are also featured with yellow appearance. This is very innovative product of Adidas as no sports kit supplier have introduced this kind of technology. There are three semi permanent stripes on the upper surface of the boots, while some design elements on the forefoot area of the new Adizero Hunt Cleat glow in the dark. Read also: Blue Green Adidas Supernatural Boots Back of Adidas Adizero F50 Hunt boots are featured with yellow color on white background. Spikes on the bottom of heel are also in white appearance. Those who likes to play in night will love these new Adizero boots of Adidas. The Hunt boots of Adidas which glows in dark are available in limited edition. This means if you have planned to buy these boots, then you need to order your purchase right now. So grab a pair of Adidas Adizero F50 hunt boots now and enjoy football with new innovation. Brand Ambassador of Adidas Arjen Robben, Diego Costa, Gareth Bale and James Rodriguez will wear these boots. These are specially designed for the matches of UEFA Champions League, so we can expect that these players would be seen wearing these shoes in upcoming games of Champions League.