Adidas has launched colorful football boots of Adizero F50 with new layouts & design. These boots are Specially designed for Barcelona's star forward Lionel Messi. Adidas is the first priority of football accessories of FIFA as well as UEFA. The German based kit supplier has also designed ball for FIFA World Cup 2014 whereas, the final match ball is leaked. Here you will get all features, & price of Adidas Adizero F50 in detail. So have a look on new boots of Lionel Messi.
Adidas Adizero F50 Price in India
Before these cleats, Adidas has launched some unique designed football shoes which are getting great response of customers. If you are an Indian citizen and are looking to purchase these cleats then you have visited correct place. The price of new Adizero F50 colorful shoes is 215 Euros. You can buy them online by placing an order on Unisportstore.
Features of Adizero F50 Boots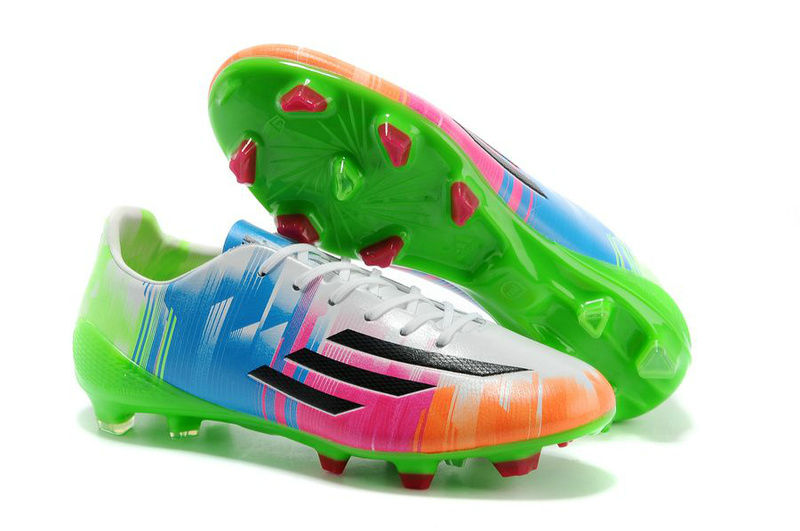 The all new cleats are designed with Adidas K‑leather emulating upper which is called as Hybrid-touch. Adidas has recently used this technology in its earlier shoes i.e. Nitro-charge. It is an incredibly supple & thin material, which wraps itself around your foot. One more thing, these cleats do not over stretch like leather which makes it unique from the others. After wearing F50 colorful boots, you will enjoy the hybrid-touch material which is designed at its nose. The speed foil heel is also designed for it. It helps to keep the weight at a minimum, but without compromising comfort. On its surface combination of colors are used which are green orange, ping & sky blue. On both sides, 3 black Adidas stripes are designed on its surface. Its total weight is 150 grams which makes it light in weight. For full details of new boots of Lionel Messi Click here New Adizero F50. So book you new football shoes now & upgrade your game.