The German based kit supplier giant Adidas has released Adizero F50 Colorful new football boots for its brand Ambassador Lionel Messi. These cleats were launched on 18 of Feb 2014 which are now available for purchase. The designers of these boots have made lots of changes regarding its color & design . Messi used these new boots in his giant clash against City in the round of 16 competition of Champions league. Given below is the details of these new football shoes of Messi.
Lionel Messi New Adidas Adizero 4 Boots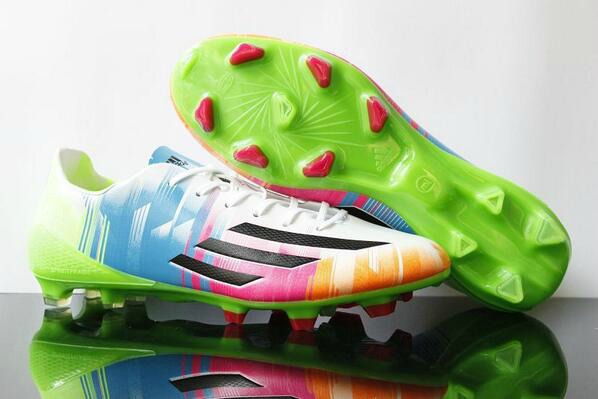 As we have discussed about the changes in these, the new Adizero f50 are made with color combination of Sky blue, Pink, Orange, Green with 3 Black stripes of Adidas. These are based on a white boot & a green sole called Solar Slime. Some vertical stripes are also there on surface of boots. For the manufacturing of upper surface, the designers have used Hybrid touch. Earlier, these type of technique was used in the manufacture of Adidas Nitrocharge Boots which were also used by Leo Messi. Inside the shoes, a text is written called "light makes fast" describing the quality of cleats. Below the rib-boned of shoes, name Messi is written in Adidas trademark style. Logo of Messi is also at the end of shoes with three stripes of kit supplier which describes the identity of Adidas. On both sides, there are 3 black colored stripes in decreasing order of length starting from top to bottom. One of the Adizero's biggest forces is the low weight & this is still a part of the Messi F50. The name of his son Thiago is also written in capital letters. These new football cleats are inspired by Adidas latest Samba pack, but it is not just any Adizero, as it has been made especially for the Argentinian wizard. At the feet, the spikes provides better control on running & controlling on ball. At the bottom of shoes, a text "SPRINTFRAME" is also written.
Price of Adidas Adizero F50 new Boots of Messi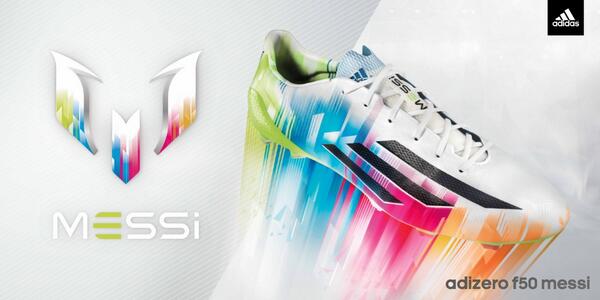 Messi was last seen with New F50 against Manchester City in Etihad stadium. Now he will play his upcoming games with new F50 shoes. Are you looking to buy these new collection of football boots of Messi. Well you can purchase these with a price tag of just 218 Euros. So what are you waiting for? You can also put an order form Unisportstore So order for your new shoes now.