Adidas unveiled the all new blue Adidas Ace 16+ Primeknit football boots. These laceless soccer cleats are the latest launch of the sports kit supplier designed for more accuracy, speed and ball control. Inspired from Adidas laceless family, the Ace 16+ Primeknit shoes are looking incredible in design and brilliant in performance. So let's have an overview on these new football boots of Adidas.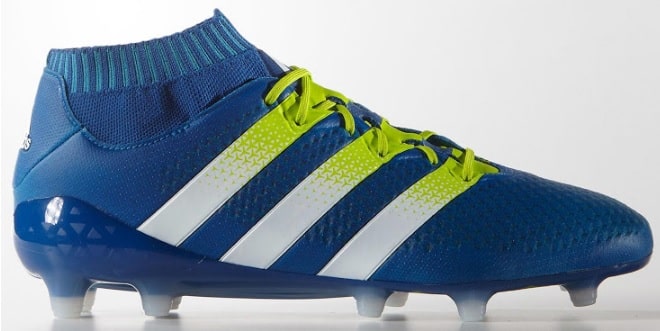 Adidas Ace 16+ Primeknit Blue Football Boots
The latest Adidas Ace 16+ Primeknit Blue Football Boots are mainly designed with blue with white and green application. It features a striking gradient stripes at the center representing the trademark stripes of Adidas in white appearance. Starting from top, these stripes are green and becomes white downwards.
Read also: Adidas X 15.1 FG Blue Football Boots
A unique pattern is provided on its upper front part that provides great ball control. Adidas Ace 16+ Primeknit Blue soccer cleats also comes with a knitted upper and a sock like collar that makes it laceless football shoes
Read also: Adidas 15.1 semi solar Messi football boots
Sole plate is simple but very tough in nature. At the front part of sole plate, seven studs are there, while four spikes are provided on its rear part in white appearance. Green triangular patterns are also provided at the front area in addition with green Adidas trademark logo.
Read also: Adidas laceless 16+ football boots
Back heel area is featured with white Adidas logo. Take a look on its inside area and you will notice an inverted "V" which is actually "A" that defines the name of football boot. This A is also available on tongue of Adidas Ace 16.1 Primeknit football shoes.
Price Of Adidas Ace 16+ Primeknit Blue Football Boots
These new soccer shoes are avialble in leading outlets for direct purchase with a price tag of €250 [£225, $250]. You can also purchase them from online stores.
So these are the new football shoes from Adidas. What are your thoughts about them?