FIFA's official partner Adidas has launched new Advertisement video of 2014 FIFA World Cup. The German based giant declared that the worth of ad video is approximate £50 million. This ad video is featured with Argentina & Barcelona star striker Lionel Messi with Luis Suarez, Robin Van Persie, Dani Alves, Bastian Schweinsteiger & Mesut Ozil. There is a new track in this advert also which is written and performed by Kanye West. In this advertisement of world cup, Lionel Messi is playing the leading role. Check out the video of Adidas new advert.
Adidas £50 Million 2014 World Cup Ad Video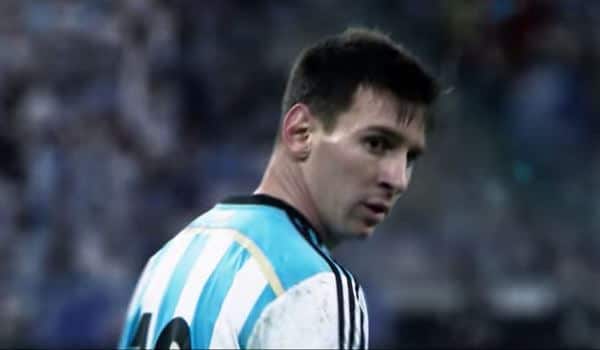 Adidas has selected perfect timing for launching this ad on TV. It was first viewed on television during half time break of champions league 2013–14 final between Real Madrid & Atletico Madrid. The name for this ad is Leo Messi's World Cup Dream which directed by City of God's Fernando Meirelles. The global brand marketing director of Adidas Tom Ramsden said "Giving anything less than everything will not win the World Cup. We are incredibly proud of this film & the entire 'all in or nothing' campaign." The viewers will be presented with two choices, the same that Messi is presented in the ad. The fans will be allowed to click on an "all in" button or a "nothing" button. Clicking "all in" will allow the fans to receive every information. While, if a viewer clicks on "nothing" button, it ensures he/she is shut out & has not Adidas communication for 2014 FIFA World Cup. Watch new advert video of Adidas for Brazil summer World Cup below. Few months ago, the American sports kit giant Nike launched its Nike Risk Everything ad campaign which is still running successfully with more than 60 million views on YouTube. Nike "Risk Everything" is featured with their top football stars Cristiano Ronaldo, Neymar, Wayne Rooney & some more. So, which one you liked the most? Soon, there will be lots of commercials during the 2014 FIFA World Cup from both Adidas & Nike.