99 Gram Adidas Adizero 2015 Football Boots Revealed: Good news for the fond of Adidas soccer cleats as the German sports kit supplier have unveiled the lightest football boots. Yes, these are the lightest soccer shoes of all time. The all new Adidas Adizero 2015 crazy-light boots are part of Adidas new limited Collection. Designed with extreme engineering and unique technology, you are going to love these new shoes. So have a look on this new launch of Adidas.
99 Gram Football boots Adidas Adizero 2015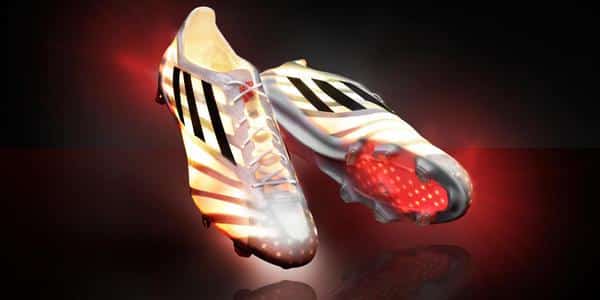 During the final of UEFA Champions League 2012–13, Adidas first previewed these lights boots in May 2013. The new White — black and solar red Adidas Adizero 99 gram boots are featured with light weight material, but strong in performance.
In 2014, the sports manufacturer introduced the lightest boots — Adidas Adizero F50 Crazylight boots that weighs 140 grams, but these new shoes have taken the crown of lightest soccer cleats.
The new Crazylight 99g football boots of Adidas features completely new textile upper made from a single layer of woven polyester. It is combined with polyurethane to seal the boot. In previous boots, traditional synthetic upper material has been used which is now replaced by ultra thin textile for manufacturing upper surface.
Adidas 99g football boots are mainly featured with white having three black colored stripes on each side. In order to provide more stability, semi transparent textile is used which also gives the look of being lightweight. Inside heel area is featured with white Adidas trademark logo on red background.
Related: Adidas Ace 15.1 Football boots
Outsole of boot is made up of polyamide that allows to create a sole plate that is as light as possible while still maintaining the needed stability. These boots are also featured with triangular studs for instant acceleration and fast movements on firm ground surfaces. On front outsole, 7 spikes are there, while on back heel outsole, there are three spikes.
Related: Black Pink Nike Mercurial Superfly boots leaked
Price of Adidas Adizero 99gram football boots
The current market price of new 99g white — black — solar red soccer cleats is 300 Euros. This means if you are in mood of purchasing these cleats, you have to spend 220 British Pounds.