Leaked Manchester City 2015–16 kits: New home and away jersey of Premier League club Manchester City have been leaked. We have got some pictures of Man City new 2015–16 kits which are sharing with your right over here. These new kits will be unveiled this summer, but before the launch, let's have a look on new kits of Man City for season 2015–16 .
Manchester City 2015–16 Home Jersey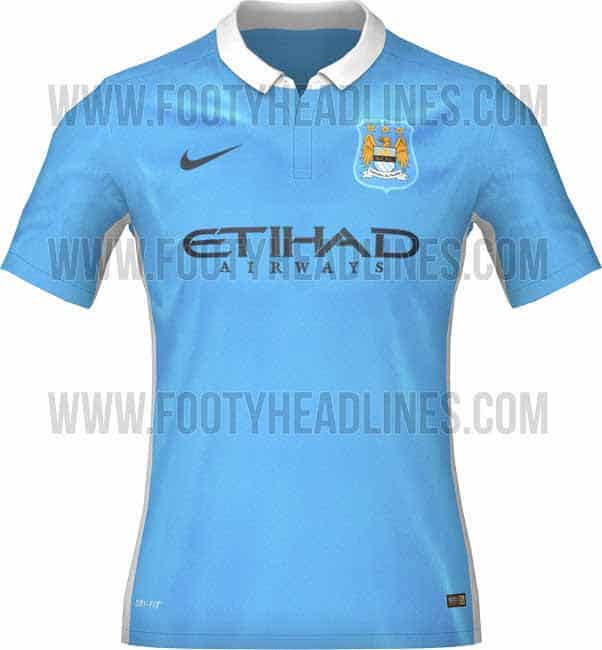 Kit manufacturer Nike have made minor changes on home t‑shirt as it is mainly featured with iconic Sky Blue appearances with white and black applications. The traditional design have perfect combination of clubs home colors. Collars are white polo look.
You may have also seen these types of collars in home jersey of 2015–16 SC International. On both sides, there is a single white colored stripe that starts from sleeves cuff to the end of 2015–16 home jersey of Manchester City. Club's badge is at left side of jersey, whereas Nike swoosh is on right side. At the center of home t‑shirt there is Etihad Airways sponsor logo in navy blue.
Talking about the home shorts and socks, shorts are expected to be in white featuring sky blue and navy blue layouts. Nike will unveil the new home kits of Man City in the month of July 2015.
Manchester City 2015–16 Away Kits
The away kits are completely different from previous kits. Navy Blue has been used for the main appearance on which Blue Moon is designed at the top of jersey. Crest of team is in white appearance, while Nike trademark is in sky blue appearance. Just like home kits, white lining is there on each side.
Shorts and socks of Man City 2015–16 away kits will be in dark navy with sky addition. Away kits are expected to be unveiled in September 2015, just after the beginning of new Premier League season.
Surf the other pages of Footballwood to find out the new kits of 2015–16.