One Love, One Rhythm is an upcoming album of the 2014 FIFA World Cup of Brazil. All songs & release date & this album are revealed by the governing body. Here is the complete list of all track songs of this album with total length of all songs. "Ole Ola" [We are one] is the lead song of this album composed by the American star Pitbull. Also, the Colombian singer Shakira composed a song for this album "La la la la". Both songs are getting good response from audience, whereas complete album yet to be released.
List of All Songs of 2014 One Love, One Rhythm Album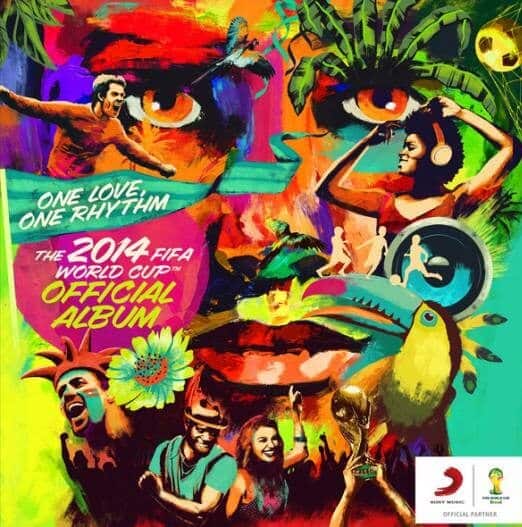 The album One Love, One Rhythm is consists of total 15 songs in addition with 2 deluxe edition bonus songs. Check out the list of all songs of this world cup album below.
No.
Song
Performers
Length [Min]

1

We Are One [Ole Ola]

Pitbull, Jennifer Lopez & Claudia Leitte

3:43

2

Dar um Jeito [We will find a way]

Santana and Wyclef Jean feat. Avicii, Pires

3:48

3

Tatu Bom de Bola [Mascot song]

Arlindo Cruz

3:20

4

Vida [Spanglish version]

Ricky Martin

3:25

5

The World is ours

Aloec Blacc & David Correy

2:54

6

Lepo Lepo

Psirico

3:21

7

One Nation

Sergio Mendes

3:32

8

La la la la

Shakira featuring Carlinhos Brown

3:17

9

It's your thing

The Isley Brothers with Studio Rio

3:07

10

Tico Tico

Bebel Gilberto & Lang Lang

2:48

11

Ole [Stadium Anthem Mix]

Adelen

3:20

12

Agora E Nossa Hora [This is our time]

MAGIC!

3:08

13

Night and day [Carnival Mix]

Baha Men

3:54

14

Go, Gol

Rodrigo Alexey featuring Preta Gil

2:58

15

Fighter [Tachytelic World Cup Brazil Remix]

Mika, Nakashima x Miliyah Kato

4:51

Remix Bonus Tracks

16

We Are One [Olodum mix]

Pitbull, Jennifer Lopez & Claudia Leitte

3:58

17

Tatu Bom de Bola [DJ Meme Remix]

Arlindo Cruz

3:45
We Are one Song by Pitbull Watch Also Shakira La la la la Song We Are One World Cup song
Football Internationale de Football Association [FIFA] have also revealed the release date of One Love, One Rhythm album. This album will be launched just before a month before world cup kick off. This means it will be available in stores from 12 may 2014. Ash Pournouri, Charles Chaves, Dr. Luke, Red One, Salaam Remi are the producers of this FIFA World Cup album.