Group G is one of the most strongest group of 2014 FIFA World Cup in which FIFA second & third ranked teams are there. Germany & Portugal are the top teams of this group, but they are also worried about fastest growing teams like United States & Ghana. In past few years, the German & Portuguese players have tasted huge level of success, but both teams didn't win big competitions in past few years. They have world class players but something is restricting these 2 teams from becoming champions. Before watching these 2 teams in action, have a look on Group G preview of Brazil World Cup.
Group G 2014 FIFA World Cup Matches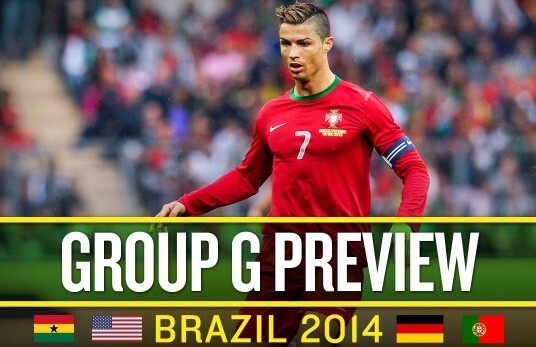 | | | | |
| --- | --- | --- | --- |
| Date | 1st Team | 2nd Team | Venue |
| 16 June 2014 | Germany | Portugal | Arena Fonte Nova |
| 16 June 2014 | Ghana | United States | Arena das Dunas, Natal |
| 21 June 2014 | Germany | Ghana | Estadio Castelao, Fortaleza |
| 22 June 2014 | United States | Portugal | Arena Amazonia, Manaus |
| 26 June 2014 | United States | Germany | Arena Pernambuco, Racife |
| 26 June 2014 | Portugal | Ghana | Estadio Nacional Mane, Brasilia |
Preview & Predictions of Group G
Germany: The German team is the most complete team of World Cup with one of the best players like Thomas Muller, Mario Gotze, Miroslav Klose, Bastian world's best goalkeeper Manuel Neuer & the strategic captain Philipp Lahm. With losing a single match in qualification round, the German players proved that they the strongest competitor of football's biggest competition. On 11 October 2013, the team successfully booked ticket of Brazil World Cup. They were the winners of UEFA Group C world cup qualification. Germany have played 18 world cups out of which they won 3 [1954, 1974 & 1990]. Right now they are at second spot in FIFA men ranking after Spain football team. The captain Philipp Lahm recently, said "We have to quit egos to win this competition". Portugal: Despite qualifying via playoff round, Portugal national football team is also the race winning the world cup. With back to back wins in past few games, the Portuguese are looking more hunger for first time victory of FIFA World Cup. Portugal top goal scorer Cristiano Ronaldo is leading the team as a captain. The Real Madrid winger played a key role in Portugal World Cup qualification by winning over Sweden at home & away. Portugal have great attacking squad, but defense is the main problem of this national team. Although they have Pepe, Fabio Coentrao, but it doesn't work for long when teams like Germany, Argentina, Spain, Brazil & others are playing in same tournament. Though Portuguese players are dependent of Cristiano Ronaldo, but this is more than a one man team which was proved in play-offs matches of World Cup Qualification. Ghana: For 3rd time, the national team is playing FIFA World Cup. Although they have not won this tournament, but the team surprised everyone in last world cup. Ghana was responsible for knock out of some big teams in South Africa World Cup. But they decently throughout the 2010 campaign & finished in quarter finals. On 19 November 2013, Ghana qualified for last 32 as CAF Third Round Winners. United States: They have come a long way since the last football World Cup in Brazil. Under Jurgen Klinsmann, their play has become more expansive; there is greater depth and mentally they seem prepared. The manager has huge role behind the success of United States but losses against Costa Rica, Honduras & Jamaica puts a question mark on his performance. The top two teams Germany & Portugal are the favorites in this group. Fans are expecting these 2 will qualify for next round, but looking on performance of rest 2 teams, their road to final may become tougher than ever before.