We are just one month away from 2014 FIFA World Cup of this year world cup. Today, FIFA has launched its album which is "One Love One Rhythm" for upcoming biggest tournament. With top singers & dancers, the governing body has invested a lot in order to raise the level of promotion. After a long wait, the all new album of Brazil football world cup is launched & the music is available in store. Here is the complete list of all songs of this album with singers & producers.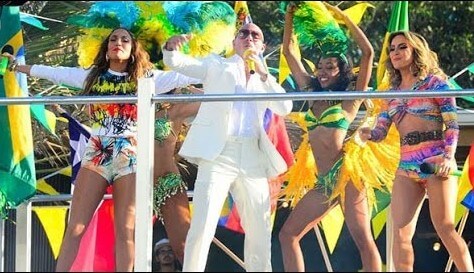 On 14th of May, 2014 the album was released world wide. The album is featured with American pop star singer Pitbull with Jennifer Lopez & Colombian pop star Shakira. We have enjoyed Shakira's last world cup song "Waka Waka" in South Africa & now it's time to enjoy her new song "La la la la" included in One Love One Rhythm. Arlindo Cruz, Berman Brothers, Carl Falk, Carlinhos Brown, Cirkut, Dr. Luke, Bergling, Taku Takahashi are the producers of this album. Total length of One Love, One Rhythm is 51:26 minutes. "We are One [Ole Ola]" is the lead song of this album sung by Pitbull. On opening day of FIFA World Cup, Jennifer Lopez, Pitbull and Claudia Liette will perform in opening ceremony in Brazil on 12th of June. Arena de Sao Paulo stadium is selected for the opening ceremony of this world cup tournament. Given below is the list of all songs of 2014 FIFA World Cup Album.
World Cup Album One Love One Rhythm Songs List
We Are One [Ole Ola]: Pitbull, Jennifer Lopez & Claudia Leitte. This is the official World Cup trademark song of Brazil.
La la la la [Dare]: Shakira featuring Carlinhos Brown
Tico Tico: Bebel Carlinhos and Lang Lang
One Nation: Sergio Mendes and Carlinhos Brown
Vida [Spanglish version]: Ricky Martin
Dar Um Jeito [We Will Find A Way]: Santana & Wyclef, Avicii and Alexandre Pires. This is 2014 FIFA World Cup national anthem.
The World Is Ours: David Correy
It's Your Thing [Studio Rio Version]: The Isley Brothers
Lepo Lepo: Psirico
Tatu Bom De Bola: Arlindo Cruz. The Mascot Song of 2014 FIFA World Cup.
So rush to your music stores now & collect the all new album One Love, One Rhythm album of 2014 FIFA World Cup now. Don't forget to share this information with others. So which team you are going to support in this world tournament?